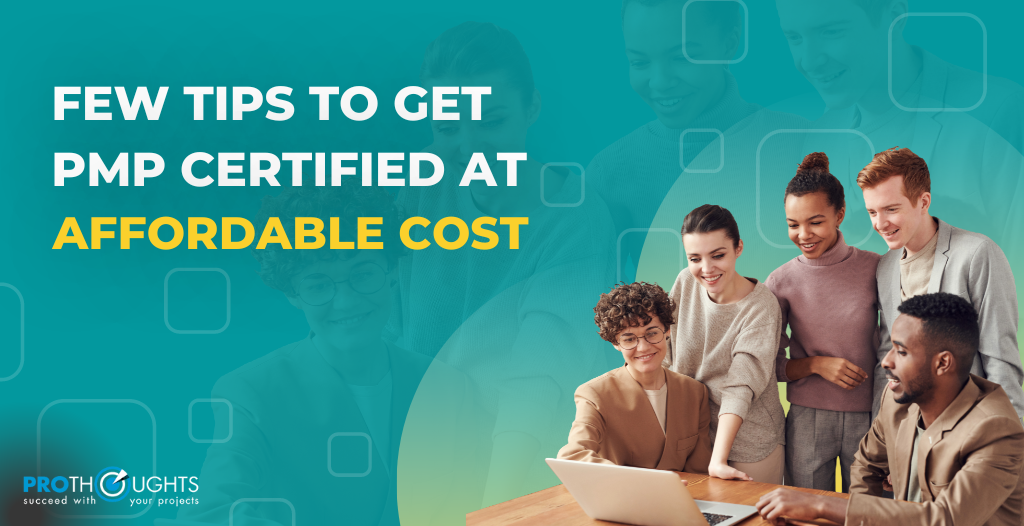 If we compare the cost of knowledge, and education for today's generation it may appear costly. After all, it totally depends on each and every individual's perspective. Prior to comparison, nothing can truly be judged as good or bad.
Similarly, for the job profile of a Project manager, few things are considered such as having professional experience, a stable degree, passing the PMP Certification exam, Earn PDUs, etc. so for such kinds of courses or professions it is important to take proper training, tutor, study materials, coaching, etc. In other words, you pay in order to pass quickly rather than laboriously, and all this expense is worth it if you pass and achieve your goals.
Well in this blog, we will assist you with how to achieve your goals (i.e pass the PMP exam) and get the certification without spending much money.
1- If you are not a PMI member, then Sign up.
Join the PMI institutes if you aren't currently a member. Although it is not necessary to be a member of PMI to take the PMP Exam, membership can result in significant savings. The membership fee is only around $129 USD including a $10 USD application charge. First, you'll get a $150 USD member discount on the PMP Exam. Second, you'll have access to informational materials for a discount or perhaps for free. You can download "A Guide to the Project Management Body of Knowledge (PMBOK Guide)" for free as a member of PMI, saving yourself between $40 and $50 USD. Third, as a PMI member, you'll have access to PMI eReads, which offers many free online PMP prep books.
2- Join ProThoughts a certified training institute of PMI
Definitely join ProThoughts in addition to joining PMI. You will get a chance to interact with people in the project management industry, and candidates who are also pursuing their PMP Certification Cost. ProThoughts also provides decent, reasonably priced PMP Prep courses. When you attend our PMI Chapter PMP Prep course as a member of ProThoughts you can save good money.
3- Get secondhand resources for pmp exam prep:
Search for used resources. If you're seeking to use PMP Exam Prep Guides, check out online marketplaces like eBay or Amazon. Just be sure to get the right edition of the book for the current exam.
4- Seek out offline competitions
Look for nearby competitions; many businesses use PMP Chapter meetings as a platform to promote their products by giving them away for free. For instance, at PMI Chapter dinner meetings held all around the world, they give away a number of their products as door prizes. Verify if your chapter offers any free study materials at its sessions.
5- Use coupons to lower the cost of PMP certification fees
You can find coupons for practically anything, including PMP Prep resources. When you have found a PMP Prep product you are interested in buying, spend a little while searching the internet for coupon codes.
6- Search for low-cost courses with good reviews
There are many courses available to choose from when looking for PMP Exam courses, so be sure to take your time when investigating and comparing them. Remember that neither the most expensive nor the least expensive is always the best or worst option. Read the course participants' reviews and recommendations correctly. Use one of the many online PMP Prep forums to inquire whether anyone has taken the specific course you are interested in and if they would recommend the course they have taken if you are unable to discover reviews or testimonials for the course on its website. It is free and can be quite helpful to hear the thoughts and experiences of people who have paid for and taken the course.
7- Try to find High-Quality Exam Prep Products.
Don't purchase low-cost PMP Exam preparation materials like books, flashcards, apps, or formula study guides. Make research. You can study for your PMP Certification using a variety of high-quality, affordable PMP Exam prep materials. However, you must keep in mind that there are some budget goods available that are really inexpensive but give very little in the way of useful instruction. Before making any purchases, check online reviews to be sure you're getting high-quality training materials.
Conclusion
Although becoming a PMP and paying Pmp Exam Fees might be an expensive endeavor, there are strategies to reduce the price of PMP exam preparation. One benefit of joining PMI is that you'll pay less for exams and get a complimentary PDF version of the PMBOK Guide to help you study. You can enroll in any discounted PMP Exam preparation courses offered by your local PMI Chapter by also becoming a member of that chapter.
Last but not the least, ProThoughts is also a low-cost resource that has all the information you need to get ready for your PMP Certification exam. This course is developed by a reputable and experienced education provider, and it costs an affordable amount of what other exam preparation resources do.
Request a free call back from our consultant!