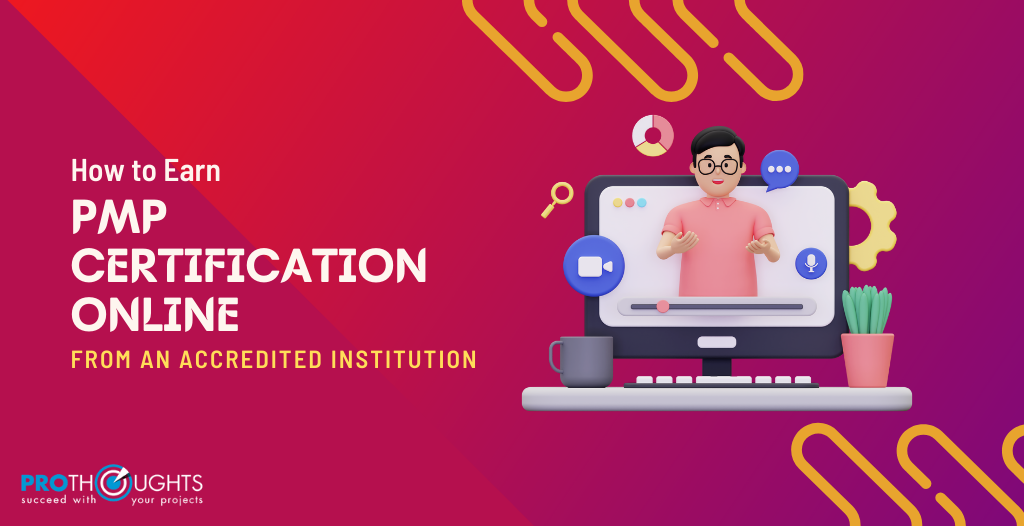 There is a high demand for skilled resources that can satisfy the demands of international projects due to the growing complexity and need for industrial requirements and obstacles. In this regard, PMP certification from PMI is deliberately crafted taking into account numerous standards and research, and equips you to handle difficulties in the workplace.
Have you made a decision to obtain an Online PMP certification? It's really a fantastic move for your career. Though challenging and time-consuming, the process is worthwhile. Join the network of project managers around the world to give yourself an advantage over rivals in the industry. Here is a step-by-step instruction manual from a recognized service provider ProThoughts on how to become a PMP-certified professional.
Criteria for PMP certification:
You must verify your education and project management experience in order to be applicable for the exam. The criteria are listed below:
35 hours of project management coursework, or training that was largely concerned with project management instructional objectives. A CAPM -Certified Associate in Project Management qualification may be used in place of this.

If you have a 4-year degree, you must have 36 months of project management experience; if you just have a high school certificate or an associate degree, you must have 60 months of project management experience.
PMP exam fees:
The exam fee is nearly $405 for PMI members and $555 for non-members as of 2022. With a PMI membership, the exam was marginally less expensive because there was a $10 one-time application charge and a membership cost of $129 per year.
Sign up as a PMI Member:
You will receive many advantages by becoming a PMP member. Your savings will be greater than the membership fees, which is the main advantage. You will receive a discount on both the PMP test as well as the PMBOK handbook in PDF format. As a PMI member, you can, however, also stay current with PMP preparation workshops.
You will also get the chance to connect with experts all over the world and build a new network. Your possibility of passing the exam the first time is increased.
Getting prepared for the PMP exam:
Planning and perseverance are required to study for the exam; exam guides normally advise at least a few months of preparation. You can study with a number of courses, notes, and other resources. ProThoughts provides you with the best study material which includes Rita Mulcahy, Mike Griffiths, Michel Thiry, etc.
Important Note:
Effective January 2, 2021, the PMP examination was modified. The updated exam now features 180 questions rather than 200, two 10-minute breaks rather than one, and three domains (project management phases) rather than five. Make sure the changes are reflected in your study materials.
Resources and Online PMP course for PMP test preparation:
You have a choice of preparation methods for the PMP test. According to a poll by PMP Exam Lessons Learned, successful test takers committed two to six months to prepare. According to the PMI, the typical successful PMP applicant studies for the exam for at least 35 hours.
PMP Course Online: There are various exam preparation courses available to aid in certification. The PMI and other for-profit organizations provide preparation classes, as do numerous community colleges worldwide, whether online or offline. You can complete the 35-hour educational requirement and get ready for the PMP exam with ProThought's Project Management Professional Certificate.
Why ProThoughts as an accredited institution?
The largest provider of Online PMP training in the globe at the moment is ProThoughts. Over thousands of students have successfully completed their PMP exams using our study products (live classes, books, cloud subscriptions, PMP audiobooks, e-learning, exam simulators, etc.).
Of all training providers, we offer the greatest resources, which include:
Our best selling PMP Study Guide, Simplified PMP Exam Prep Live Instructor-Led Instruction

Project management education requirements for the PMP exam with 35 hours of training.

E-Learning Course, which includes a Live Assistant for the PMP certification exam application. You may count on our assistance before, during, and after the lesson. Endless amounts of revisions and training support
In comparison to other PMP training providers, ProThoughts offers the greatest resources, assistance, and guaranteed exam practice tests. While other companies employ generic training resources, our team and our top instructors create materials that are specifically tailored to the needs of the current 2022 PMP Exam.
Request a free call back from our consultant!