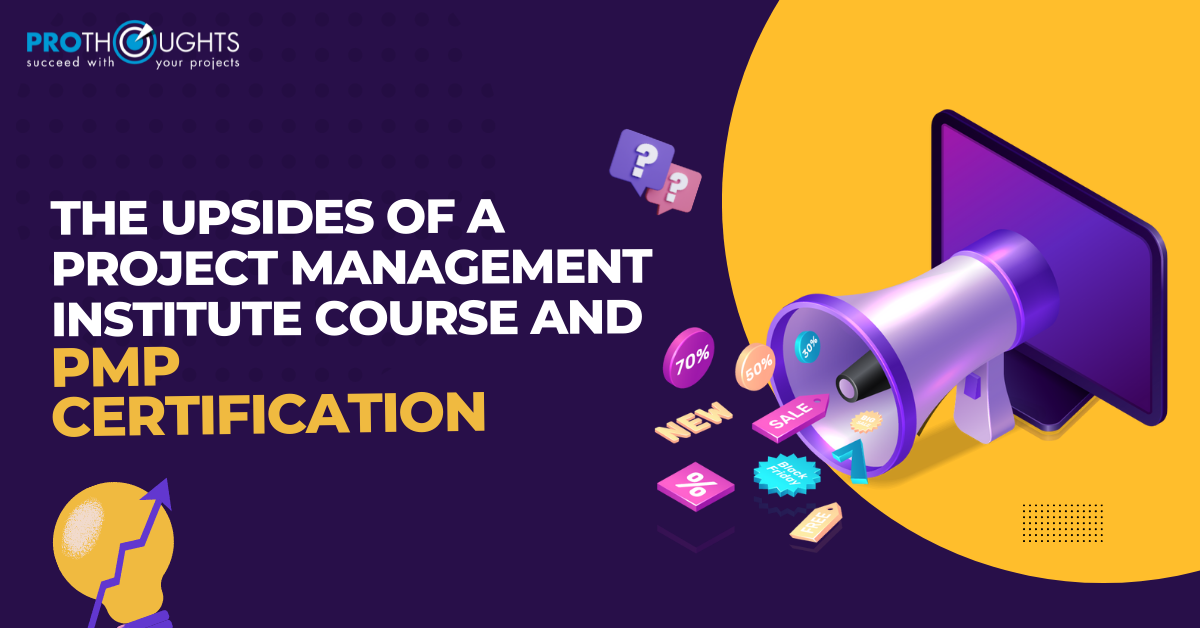 It takes a lot of work and perseverance to get where you want to go in your profession. People look for a variety of ways to advance their professions, gain more experience, and increase their earning potential. The first step for project managers is to comprehend the significance of PMP certification, though. Some people do understand that earning their PMP certification is a smart step because it comes with many privileges. So let's understand the benefits of getting a PMP certification and project management institute course.
How ProThoughts can help you earn PMP Certification:
It's time to consider continuing your education to increase your knowledge and enhance your reputation as a project manager. ProThoughts bridges the technological and commercial worlds so you may also develop your leadership, business, and communication abilities.
Consider taking a Project Management course, which will prepare you for this vocation and show you exactly how to obtain PMP certification. If you're prepared to launch a project management career, request a free brochure or consult with an enrollment counselor about the Online PMP certification course right away.
What do you mean by PMP course online certification program?
The PMP is a credential examination method, as defined by the Project Management Institute, that is used to ascertain whether a person possesses the awareness, importance, and frequency of specialized knowledge, abilities, and organization necessary to become a project manager. The role of thorough studies, or a collection of rules that guarantee the validity of the test and accurately measure all factors that go into becoming a good project manager, must be used by organizations.
Only experienced project managers should think about getting the PMP; those just starting out in their careers should wait till they have some experience under their belts.
For requirements to take the exam, there are 2 options. These require a secondary education, 7,500 hours working as a project director or leader, and 35 hours of project management training.

Alternatives include a four-year degree, 4,500 hours as a project director or leader, and 35 hours of project management training.
Other prerequisites for the Online PMP Course include evidence that the candidate has taken ownership of past projects and led teams within the constraints of time, money, and resources, as well as evidence that they have the necessary expertise to fulfill well-defined project delivery dates.
For PMI members, the application fee is $405; for non-members, it is $555.
What advantages come with an Online PMP Course after receiving the certification?
Getting certified is indeed beneficial for project managers. However additional benefits are:
Greater pay: As per The Project Management Institute, people who hold a PMP certification typically earn 20% more money than those who do not.
Greater objectives achieved at work: Those who hold a PMP certification also help their place of employment. According to the Survey, when a company has more than one-third of certified PMP project managers, the corporation as a whole achieves its objectives and completes more projects on schedule.
Assurance in the field: By obtaining the PMP certification, project managers can be sure that they possess the precise knowledge and abilities necessary to carry out their jobs in accordance with industry standards.
More stable association: Connecting professionals in the field and creating chances for collaboration begins with understanding the universal language of project management.
What subjects are evaluated in the exam?
Analyzing the test material is the first step in figuring out how to become PMP-certified. Project management-related exam topics are divided into five categories. Initiating makes up 13% of the exam, followed by Planning (24%), Executing (31%), Control and Monitoring (25%), and Closure (7%).
Initiation: Project management's initial phase is tested by this eight-task section. Project managers should be able to evaluate a project's viability using all available data, stakeholder meetings, and other factors. Strategic management, benefit analysis methods, and analytical skills are evaluated in this section.
Execution: Next, project managers demonstrate how they act and use the proper resources and methods to launch a project while upholding quality standards.
Controlling and Monitoring: After evaluating a project's performance and structure, project managers will decide what needs to be altered in light of the findings. Solutions and suggestions for quality improvement are generated by recording, analyzing, and managing lessons learned.
Closing: To ensure that the deliverable was successfully completed, the project managers finally win final approval from the stakeholders. To measure and raise stakeholder satisfaction, it is crucial to take into account feedback and correctly appraise the situation.
So above mentioned are all the upsides of getting a PMP certification and enhancing your career path with all the benefits of Online PMP training.