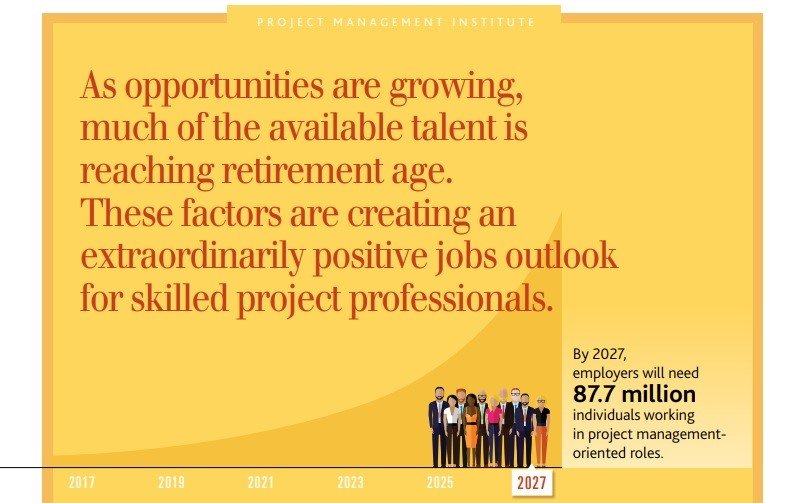 As we are halfway into 2021, are you aware of Project management's latest trends and figures?
This blog will help you with the latest Project Management Certification details along with other trending Project Management courses in 2021.
By 2027, employers will need nearly 88 million individuals in project management-oriented roles. China and India will represent more than 75 percent of the total project management-oriented employment. ~ PMI organization.
Project Management certifications always remain at the top of every sector and especially in IT Certification for the past few years. So Project Managers play a very vital role in all kinds of operations and industries.
We have done some quick survey on the most popular job portals and with certain Project Management employers. Certainly, PMP Certification is the most favorite and popular among the Project Management Certifications.
Some of the other popular courses are CAPM from PMI(Project Management Institute, CSM from Scrum Alliance, ASQ's Certification from Six Sigma Black bet and Green belt credentials, Prince 2 foundation and Practitioner level from Axelos.
Certified Associate in Project Management (CAPM Certification)
CAPM (Certified Associate of Project Management) is the entry-level Project Management certifications and you can call say the stepping stone for the PMP Certification. (Although it is not mandatory for the PMP Exam)
Organization: Project Management Institute
Examination Cost
Computer- or paper-based exams:
PMI member: $225 (retake $150)
Nonmember: $300 (retake $200)
Exam is available in online proctored or center-based test (CBT) formats.
Exam administered by Pearson VUE.
Requirements: High-school diploma, associates degree or equivalent and at least 1,500 hours of project management experience or 23 hours of project management education
Certified ScrumMaster (CSM)
A lot of organizations adopt Agile methodologies as it had become more popular and a lot of Project management practitioners are qualified to manage Agile environments.
Although there are a lot of Scrum Master certifications that are available but the most popular among those is ScrumMaster (CSM) from the Scrum Alliance. The current organization promotes a large number of groups, communities, and resources for professional development.
Some of the certifications include Certified ScrumMaster (CSM), Advanced Certified ScrumMaster (A-CSM), and Certified Scrum Professional – Scrum Master (CSP-SM).
Organization: Scrum Alliance
Prerequisites/required courses: General familiarity with Scrum
Certification Cost:
Completion of a two-day CSM training course (price varies by training provider; candidates can expect to pay $920 to $1,295)
Certified Six Sigma Green Belt and Black Belt by ASQ
One of the well known and globally organized is the ASQ Certifications. ASW currently offers 18 credentials from which the project management (specially targeted) are entry-level based CSSYB – Six Sigma Yellow belt, professional level based CSSGB – Six Sigma Green belt and expert level based CSSBB – Six sigma Black belt.
Organization: ASQ
Certified Six Sigma Black Belt (CSSBB)
Prerequisites/required courses:
Need to have 2 completed projects or 1 completed project with signed affidavit plus 3 years of experience in one or more areas of the Six Sigma Body of Knowledge
Cost per exam:
USD 438 for members and USD 538 for non-members
Retake examination is USD 338
Exams administered by Prometric.
Certified Six Sigma Green Belt (CSSGB)
Prerequisites/required courses:
3 years of experience in one or more of the Six Sigma Green Belt Body of Knowledge areas
The Experience must be full-time and no other internship experience would be allowed
Cost per exam:
USD 338 for members and USD 438 for non-members
The retake examinations would cost USD 238
Exams administered by Prometric.
Prince2 Foundation and Practitioner course
Prince2 is one of the most popular Project Management course which is a process-based method which proves to be effective.
Do you the acronym of Prince2?
Prince2 stands for PRojects IN Controlled Environments, which is organized by Axelos. Prince2 is basically more famous in the UK and has been adopted in many countries worldwide including western European countries and Australia.
Organization: Axelos
Prerequisite skills: While there is no prerequisite for PRINCE2® Foundation Certification Exam as well as the Prince2 Practitioner course however, basic project management knowledge would be advisable and the foundation course can help more for the Practitioner Certification.
Certification Exam per cost:
AXELOS is not a training organization or exam body and so prices for training courses and exams are set by our partners and will vary.
PMI(Project Management Institute) which is again a US-based organization provides a lot of Project Management certification like Program Management Professional (PgMP),
Portfolio Management Professional (PfMP), PMI Agile Certified Practitioner (PMI-ACP),
PMI Professional in Business Analysis (PMI-PBA, PMI Risk Management Professional (PMI-RMP), PMI Scheduling Professional (PMI-SP) and the most popular PMI Project Management for Professional (PMP).
PMI standards are very rigorous and certifications like PMP are one of the toughest examinations. They verify if the aspirants hold credentials and meet the required educational skills.
Prerequisite skills: 4-year degree, 4,500 hours in leading and directing projects, and 35 hours of project management education
OR
Secondary degree (high school diploma, associate's degree or equivalent), 7,500 hours leading and directing projects, and 35 hours of project management education.
Certification Cost per exam
Paper-based and computer-based exams:
PMI member: USD 405 (retake USD 275)
Nonmember: USD 555 (retake USD 375)
Out of all these trending certifications, PMP Certification is the most trending and popular course in the Project Management world.
It is an all-around perceived Certification for Project Managers. It is additionally said to be the Gold Standard of Project Management. There are 1 million PMP Certified Managers around the world. PMP Certification training shows the experience, ability, and competency required to lead and direct activities. PMP is the most looked for after course directed by the Project Management Institute (PMI), USA. This Certification encourages people to comprehend the functionalities of Project Management at more extensive skylines.
Becoming a PMP Certified is time-consuming, a bit complicated and expensive but it comes with a high level of commitment as well in the Project Management Profession. Having PMP certification will give you a good edge over non-certified project managers as well as a certain level of prestige and access to jobs with higher salaries. As a fact, PMP Certified gets a 20% hike on their salary. It takes a maximum of around 6 months to prepare for the PMP exam.
It is important to attend 35 hours of PMP Certification Training before you take your PMP Exam.
Tips to prevail in any of your Project Management Certification Examination
Have a plan before you start studying
The first and the foremost step towards starting to prepare for this exam, plan how things should go further as you cover topics one by one. It will act as a roadmap for your preparation journey. You surely don't want to get lost in so much preparation, right?
There should be some points like how much time you will spend on a daily basis? Give yourself a deadline. Try to answer simple questions and prepare a schedule accordingly to succeed in this because perfect small steps will lead to a successful ending.
Play and learn with flashcards
Preparing for the certification is a very hectic and daunting process. Using flashcards can be very effective for your learning process as well as concepts. You should use flashcards to test yourself as well as have fun while learning or testing yourself. This will be a little less overwhelming and will enhance your performance. Play and learn with flashcards.
Try Online exam prep webinars/workshops
There are various webinars and workshops that are held by Project Management Experts to give information on the latest things in the Project Management world. It clears your doubts and keeps you updated with the trends or changes happening lately. Also, the experts will share their journey through which you will get help crossing hurdles during your preparation.
Read the exam prep blogs
There are a lot of reading options over the internet. A website like Talk Project Management and various Project Management based organization come up with the latest trends and updated blogs regarding exam preparation. You can also join some communities on Facebook or LinkedIn to stay updated about the latest blogs.
Participate in group discussions and forums
Do you know that millions of people are there in Project Management groups on LinkedIn?
Project Managers of specific industries?
YES !!!
It takes nothing but some of your precious time to take part in Group discussions and forums so that you get to know the latest trends and facts in the Project Management community. Learn about other alternate resources which will reduce your time for preparing.
Use the best Study material
Always check with the previous experts which material is the best to refer for any Project Management Certification.
Most of the people face difficulties understanding the topics and so they don't get through the exam. For example Rita Mulcahy is the best material for PMP Certification Training Online Courses.
It is said that by 2027 there would be 2.2 MILLION new Project-oriented job roles each year and how are you planning to fill in??
If you are planning to get certified and move ahead with your career growth learn and get certified for better growth and opportunity.