The complexity of projects is increasing daily. Why? because remote work and geographically scattered teams are more common. We must use the appropriate project management software to facilitate our team interactions and collaboration if we want to avoid adding to the already complex nature of our job.
You've come to the right place if you want to centralise everything (or almost everything), want to update your present tool, don't know where to start your research, or are overwhelmed by how many tools you're currently utilising. These solutions provide a wide range of advantages, including the ability to track project progress in real-time, facilitate team discussions about assignments, and access project information via mobile app. Few of the most popular project management softwares are mentioned below:
ClickUp is a comprehensive project management software for organising and finishing all of your team's tasks on a single platform. Users can arrange assign tasks, and manage the resources in a centralised workspace. They can also communicate and work together with team members and visitors.
Task management includes the capacity to swiftly reorder, filter, quick recorder search for, and view tasks in a manner that is most comfortable for the team. Other capabilities include task checklists, subtasks, and task templates. To visualise tasks, users can also make Gantt charts, calendars, and timelines.
Website: https://clickup.com/
Users can add files to cards and connect them to them, write comments, mention teammates, and more. It also has an excellent project dashboard that reports a compile data from multiple boards for improved tracking of progress. You can use Monday.com to track hours, deadlines, and bills even if it doesn't offer the same comprehensive set of capabilities for project accounting and invoicing as other solutions.
Project management software including Slack, Google Drive, Gmail, Google Calendar, Jira, GitHub, Trello, Dropbox, Typeform, and many more are integrated with Monday.com using Zapier.
Monday.com offers a 14-day free trial and prices start at $6 per user each month.
The powerful free plan from ClickUp comes with all essential features. The $5/user/month unlimited plan has more features and begins with more users.
Website: https://monday.com
The multi-award-winning project management tool Wrike is best suited for teams of five or more because it supports an unlimited number of users. Users of the tool can alter processes, dashboards, reports, and request forms thanks to its extensive configurability.
It enables an infinite number of users, the multiple award-winning project management application Wrike suits best for the team of five or more people. The tool's considerable configurability allows users to change, request forms. dashboards, reports, processes
Website: www.wrike.com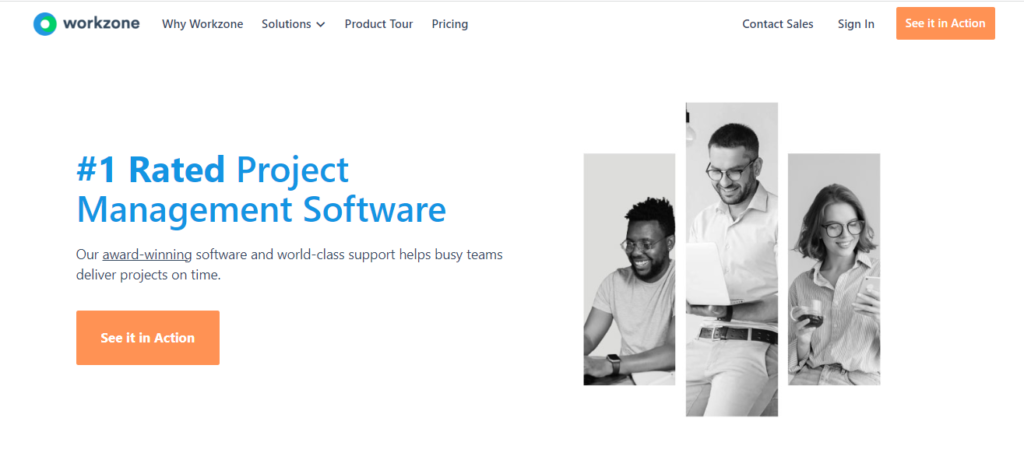 For marketing, agency, and operational teams with five or more members, Workzone is a superb project management tool. Despite its strength, it is very simple to use and adapt. Since it has been in use and development for 20 years, both small and large organisations use it to manage their projects and keep their teams coordinated. As a result, the firm has created some really valuable features that address genuine issues.
A practical dashboard for all tasks, individualised to-do lists, and an interactive Gantt chart are just a few of Workzone's noteworthy features. Workzone also provides configurable project intake forms, secure file storage, creative review tools, task management, time and cost monitoring, and robust reporting.
Website: www.workzone.com
With capabilities to handle a project from the first brief to invoicing and a collection of features that encompass project management, communication, time tracking , timesheets, and accounting, Paymo is a fully featured application aimed for small to medium organisations. If you're looking for an end-to-end agency to power the platform, this is a cost-effective option.
It is possible to simply brief resources through tasks that may be specified and templated, with job durations allotted and hours budgeted to accomplish the work, thanks to strong task management capability. Tasks can have files added to them, comments made on them, and dependencies set up between them. They also permit assigning tasks to many users, which is advantageous because multiple people can be held accountable!
Website: www.paymoapp.com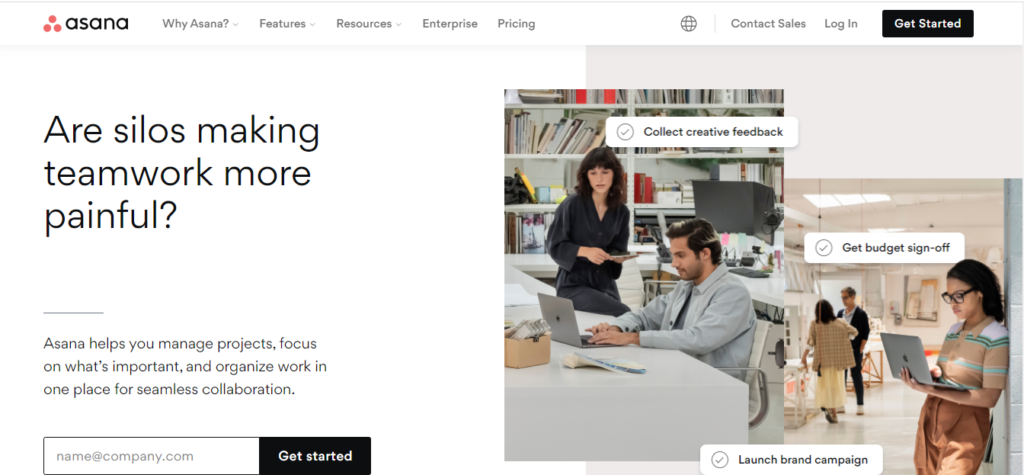 Individuals looking for a kind of software that can keep track of the crucial and essential tasks related to your business that you need to complete in a specific amount of time, Asana is the ideal project management solution. It is a project management software that could make you and your team more prepared and organised. You will be able to manage assignments, make sophisticated to-do lists, and keep track of numerous chores. In a nutshell, Asana is capable of handling every work needed to run a business.
Website: https://asana.com
A great tool for managing a variety of projects and teams from various industries is GanttPRO, a project management programme based on Gantt charts. The software has tools for effectively segmenting projects into subtasks, sibling tasks, and subprojects, as well as for establishing dependencies and milestones. Users have a choice of the Gantt chart, Board views, and task dashboards to increase visibility. Additionally useful task management tools like statuses, priorities, length and estimation, progress, dates and deadlines, assignees, and more are available with GanttPRO.
Teams can communicate in real time via comments, mentions, and attachments with the Gantt chart creator. There are also options for managing resources and tracking team members' workloads and tasks.
Website: https://ganttpro.com/
Conclusion
Keep in mind that you may always arrange a demo with the seller if you require more details regarding a particular use case. This will make it clear how the tools & softwares can help you with the specific issues you're trying to resolve.
But what do you think we are leaving off of this list? readers undoubtedly know additional tools that can compete with those on this list, or alternative selection criteria. If you have any advice, recommendations, or thoughts about it, share with us on info@prothoughts.co.in. To get more information you can schedule a free call with a consultant here.