You are now familiar with how to earn the PDUs. That was easy, isn't it?
Now the next step – How to Report on the PDUs?
You are responsible for recording your PDU activities as they occur. The most efficient way to record PDUs is by using CCRS. You must record your PDUs and complete the renewal process before your CCR cycle ends to maintain an active certification status. If you do not earn and record the required PDUs within your CCR cycle, your certification will be suspended.
The day you pass a PMI certification, e.g., PMP® your CCR cycle begins and is valid for 3 years time…
The PDUs should be reported on one of the 2 below categories:
Education – Learning opportunities that allow you to expand and enhance your technical, leadership, or strategic and business management skills.
Giving back to the Profession – Activities that enable you to share and utilize your knowledge and skills as a means to contribute to and help build the profession.
There are different CCR requirements for each PMI certification, as outlined below:
Education:
As per PMI®, the ideal skill set of a Project Manager is a combination of technical, leadership, and strategic & Business management competency – the PMI® Talent Triangle ™
Technical project management: Knowledge, skills, and behaviors related to specific and domains of Project, Program and Portfolio Management.
Leadership: Knowledge, skills, and behaviors specific to leadership-oriented, cross-cutting activities that help an organization achieve its business goals.
Strategic and business management: Knowledge of and expertise in the industry or organization that enhances performance and better delivers business outcomes.
The education component of the CCR program is aligned with the PMI Talent Triangle to ensure that the Project Manager skills are equipped to remain relevant in a continually changing business environment. As a certification holder, you must earn a minimum number of PDUs in each of the skill areas of the PMI Talent Triangle—technical, leadership, and strategic and business management.
Education PDUs can exceed this amount and there is no limit on the number of PDUs that can be earned in education.
The education requirements are further broken down based on the PMI Talent Triangle skill areas as detailed below: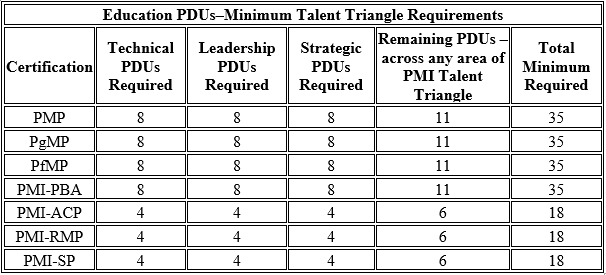 Giving Back to the Profession:
PMI recognizes that sharing your knowledge and actively applying your skills is a valuable means to contribute to the profession. Additionally, many find that giving back is an enriching learning experience that enhances your professional development in different ways. That is why giving back activities are PDU eligible and incorporated into the CCR program.
It is important to note that giving back is an optional manner in which to earn PDUs. The giving back requirements listed above are the maximum number of PDUs allowed for each certification in this category. If giving back PDUs are earned, the total cannot exceed the limits listed above.
For PMP, PgMP, PfMP, PPMI-PBA, the "Giving Back PDUs" is 25 PDUs max
For PMI-ACP, PMI-RMP, PMI-SP, the "Giving Back PDUs" is 12 PDUs max
Also, one of the frequent questions is can one training or event give you PDUs across Multiple certifications. The answer is Yes – and you can read our other blog – "How to Maintain Multiple PMI Certifications"
In case of any queries about reporting PDU's or detailed information you can contact us at +91-8422907604 or email us at info@prothoughts.co.in