Corporate Training is an upcoming trend in every organization these days. In the last decade or so, every organization, big or small, as per their needs have invested in this.
Corporate training can be (based on who conducts it):
Internal Training: These are conducted by the employees, for the employees at no extra cost. Just that the employees' time is utilized in this.
External Training: These are conducted by external trainers are hired and paid to conduct these training. They are hired only when

Trainer in-house is not available at all

Trainer in-house is not capable of conducting effective training
Corporate training can be conducted in these 3 forms:
Virtual Self-Paced Training: These are online pre-recorded training which employees can attend at their own convenient times and place. They may even attend in parts and not in one single stretch. They can mostly re-attend the training too if need be. Highly flexible where interaction is not so important and no query clarification has to be provided.
Virtual Live Training: These are online training which is conducted with live streaming. They are conducted at predefined times but can be attended by employees from their own convenient place. It has to be attended at a stretch as per the laid out plan. If recorded and recordings are available, only then it can be re-attended. It might be interactive and query clarifications might be possible.
Classroom Training: These are offline training conducted at a physical location at a specific time where both trainer & employees attending the training need to be present in person. Highly interactive with very effective query clarification possible. This traditional way is bound to be the most expensive yet preferred style by many organizations.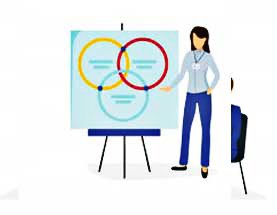 To understand the benefits of corporate training, there are a couple of statements which will correlate with this topic in the points that are made later in this article:
An organization is due to the people associated with it.
Investing in employees is a long term investment that pays off in the long term.
Attrition is one of the hard truth for every organization in recent times.
Corporate Training is conducted within the organization with an aim to achieve the following benefits:
1. Knowledge Sharing
Experienced employees drive this training. These increase the capabilities of the organizations and create backups for every tasks and process within. These could be either technical or non-technical training. This also helps to ensure smooth delivery and set expectations correctly. This is an intangible benefit.
2. Enhance the skills of employees
Existing skilled employees drive these training. These increase the capabilities of the organizations. These could be either technical or non-technical skills training. These help the organizations to encourage employees to add value by improving processes and systems. Employees are also expected to think out of the box to add further value. This is an intangible benefit.
3. Add new skills and capabilities in the organization
Anytime an organization wants to add a new skill not currently existing within the organization, external trainers with that skills are hired and they train existing employees. These are needed for new businesses & initiatives that generate additional revenue. With the current trend, where technologies and approach to drive business is changing at a rapid pace, every organization needs to keep with the pace. Sometimes that might be essential for surviving the competition. This is an intangible benefit.
4. Employee Motivation
Employees feel good that the organization is thinking about them, investing in them and hence stay motivated. Their learning curve improves which leads to many other secondary benefits like control in attrition, improved delivery, etc. This is an intangible benefit.
5. Trainer's Self-Actualization
Senior and experienced employees get an opportunity to share their experience, skills, and knowledge with others in the organization. This indirectly helps control attrition and keep senior employees remain self-motivated. This is an intangible benefit.
6. Social & Professional Causes
There is much training which is done for CSR purposes. These help employees understand their social & professional responsibilities which help them not only grow within the organization as an individual and as a professional as well but also help the organizations to get the best out of their employees. This is an intangible benefit.
7. Attrition control
Due to employee motivation & self-actualization benefits, attrition can be controlled effectively. Expenses per employee for much expensive training are incurred by the organizations with employment conditions to retain employees too. Attrition is one big problem that organizations are facing currently and comes with a very high cost. At times, only this could be a reason why corporate training is essential nowadays.
8. Increase in Brand Value
This is an indirect and intangible benefit wherein due to high employee motivation and good feedback, employers' brand value increase. We find surveys and rankings done for organizations. Eg. Top 10 Employers to Work for.
If organizations' brand value improves, better talent can be hired and retained.
9. Tax Savings
This is a direct and tangible financial benefit. Most of the costs incurred in conducting training in any forms are directly charged as expenses and hence the taxable income is directly reduced. Also, the taxes to be incurred on services received due to corporate training gets compensated with taxes on services provided. Savings in the taxes (income & service taxes both) is a direct saving to the organization.
10. Ensure Ethics & Compliance
Senior employees, compliance or HR team drive these training. Many of such training is mandatory for every employee. Few are mandatory based on the position and type of work you are involved in. These help to avoid or reduce ethics and compliance-related issues. It helps to ensure that procedures are followed as expected and policies are not violated. This is an intangible benefit.
If Return on Investment (ROI) is calculated (which most organizations do base on the above-mentioned points), almost all training conducted yield more than what is invested in these training either in short or long term. Many intangible returns talked above are also considered in this calculation.
Corporate Training is a must for every organization to grow, inspire & motivate the employees of the organization.