I am so glad that I achieved the feat, I was dreaming since last couple of years. Finally, accomplished it last week.
It was not an easy journey; it required a lot of motivation, dedication and of course sacrifices. What I realized during this certification journey was that you need to have not only the persistence from your end but also or rather more prominently the appropriate sources of study materials (which suits your learning style) to achieve this success.
How I Prepared for the Exam
I was clueless how to bell this PMP cat! I researched a lot about PMP preparation workshops in Mumbai and zeroed down to join ProThoughts, based on their track record, testimonials and workshop venue convenience. It was the best decision to have a perfect head start for my PMP preparation journey! ProThoughts workshop truly educated me, how to approach this exam and introduced me to a wonderful PMP guide by Rita Mulcahy and it became my bible for PMP preparation.
I read Rita Mulcahy's book 2 times cover to cover. And then referred it back multiple times to clarify the doubts about concepts/tools/strategies/theories for the topics like integrated Change Control, Risk, Quality, Resource and Procurement (which are covered fantastically in this book).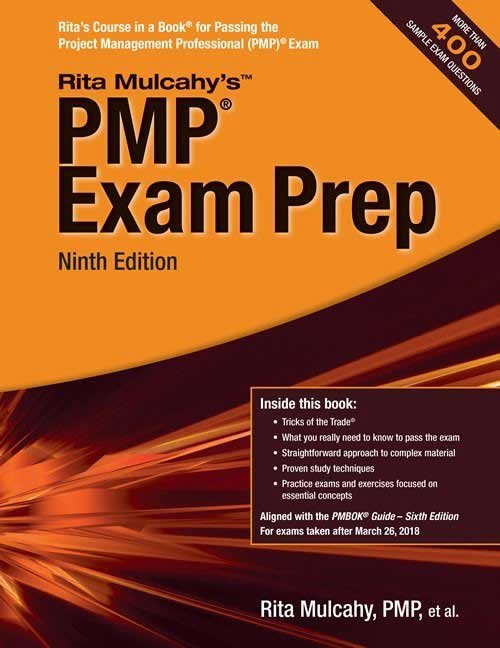 Then I revisited all the knowledge area topics using ProThoughts blue-book (it was 2nd blue book reading, as I had read it 1st time after each workshop session), and the notes from the ProThoughts PMP workshop sessions.
Further, I solved all the topic end quizzes from Rita and this gave me more confidence and kept me focused.
At this point, I was deficient in visualizing the PMP processes flow. And then, I came across Exams PM's YouTube video
I did not adopt the mnemonics trick from this video, but it helped me fixing the gap of grouping the PMP processes flow. As I studied further all the topics along with this process chart, I automatically remembered all 49 processes in the flow they perform. This was my 3rd Rita+ ProThoughts blue-book read.
Next, I started solving Chritopher Scordo's lite mock tests of 50 questions. This helped me fix my knowledge gaps with its exhaustive explanations. This book is a great tool, as these explanations and quiz type/language matches with Rita's book and you have great alignment with concepts.
After studying above-mentioned content, I was still lagging behind in the area of ITTOs [input-tools&techniques-output] and was failing in most of the ITTO related questions. I referred Ricardo Vargas's Process flow PDF but I did not want to rote it, as it could not get me anywhere but waste my time. And then I came across videos. I went through them twice. It helped my greatly for literally understanding the "why" of ITTOs !!! Then, took all the topic assessments, which I found them of the finest quality, as it really demands the deep understanding of concepts/topics to answer them. It raised my confidence level further.
The next day, I took ProThoughts 1st mock test and I fared well (as compared to my confidence level at that time), scored 74%. It boosted my confidence. I took 2nd and 3rd mock tests and did great with the score of 84% and 88%. That was a Eureka moment for me!! Each mock ProThought's mock test provided great feedback and explanations to fill the knowledge gaps. Also, worth-mentioning, I found a lot of actual PMP exam questions were very close to ProThoughts' mock test 2 and 3. With this confidence, I took a leap of faith and booked my exam date!
I tried referring to PMBOK once in the middle of my preparation but found it very technical. So, kept it aside. However, it helped me greatly with its Appendix and Glossary section, in last 48 hours before appearing for my PMP exam. It helped me with couple of questions about terms definitions.
The Exam Day Experience!
A day before the exam, I was very calm and content with the confidence to face the exam.
Credit goes to my Gurus for this journey: Rita Mulcahy Book + Mr. Ashish Sadekar [ProThoughts]
I found Exam difficulty level was medium. As mentioned earlier, ProThoughts mock test 2 and 3 questions were very close to the question I got in my actual PMP exam. However, the options were very tricky and most of them had 2 right answers and I had to choose best from them. Here, Prothoughts' mock test feedback/explanations + Online topic discussions webinars helped me tremendously to select the "best available option"!!!
In my exam, I got 95% scenario based questions (most of there were from Perform Integrated Change Control Process, Risk Management and Procurement Management) + 2 EVM calculation based questions + 5 very tricky Charter related questions + 2 direct questions on Agile topic.
I did not take any break during my exam and the rest room is not close by your exam room at Mumbai prometric center. I took 3 hrs 50 mins to complete my exam, so had only 10 mins to review my marked questions.
There is a dramatic addition of a 5 min exam experience survey between you hit the "submit exam" button and you get your exam result on the screen! I completed the exam experience survey, took a "deeeep" breath, clicked the exam experience survey submit button, closed my eyes (remembered all the hard work and wished for the best and prepared my mind for the 2nd attempt, if needed). When I opened my eyes after 5 seconds, exam result pre-loader was still whirling to add to the suspense and in a couple of seconds it appeared, the screen that I visualized every night I dreamt of during PMP preparation journey…
Congratulations! You earned your Project Management Professional (PMP)® Credential!!!
I Must Thank –
Mr. Ashish Sadekar (Director, ProThoughts), exclusively for his immaculate skill of teaching and facilitating the understanding of the PMI concepts. I was drifting from my certification preparation path for a bit due to work but he brought me back on track with his guidance and support.
Online Knowledge based Videos various crucial PMP topics. Those videos and a number of webinars enabled me to think through the project management scenarios.
Mr. Siddhant (Coordinator, ProThoughts) for patiently answering all my ad-hoc calls and queries efficiently and made sure that I am equipped with the correct content.
All in all,
Based on my experience, I would recommend following:
1. Find the learning provider or guide for your preparation journey, suitable for your learning style. I needed ProThoughts to fill "my" knowledge gaps.
2. Stay focused and motivated, look at the future after you achieve this feat!
3. Do not hesitate to invest time and leverage study materials available on internet. Choose the best, which helps you understand the topic broadly.
4. Practice sitting for long, so you remain focused and dedicated for close to 4 hours. This helps in actual exam, which demands great amount of concentration (without break).
5. Earlier when I read it I found it childish, but deep breathing at regular interval (after every 40 questions) and maintaining a smile on your face (even if you come across tough questions – smile, mark your best guess and move on!)
I hope this helps and I wish all the best for the future PMP exam takers!!