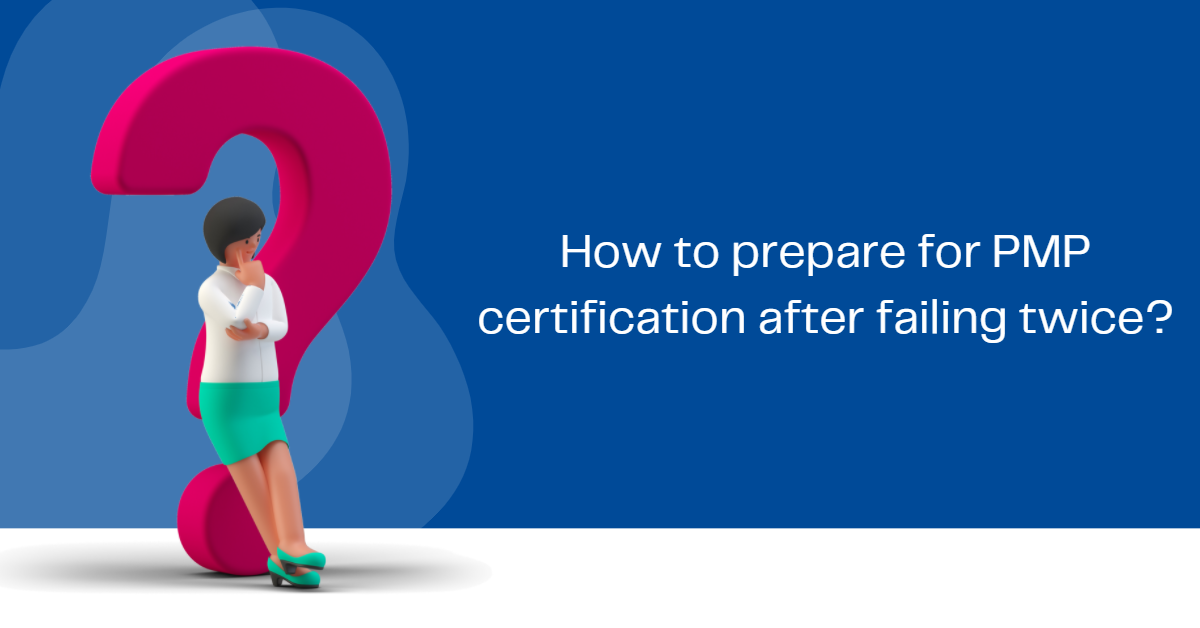 Failed twice????
How do you feel. May be a stupid question to ask, however I am strong believer of the fact that there is no question such as stupid question.
In real life, we all fail, don't we? We fail to
Meet expectations of stakeholders

Meet the schedule and cost estimates

Deliver as per the quality parameters

Deliver as per defined scope

Meet commitments at work and home chores

And so on…..the list goes on and on, isn't it
Here are my quick thoughts
Failure is not fatal, however taking it as your defeat is cowardness, it takes courage to demonstrate your confidence and poise and continue with the

PMP

Journey

Failures might not be a choice however you do have choice to spruce up further and bounce back with more passion, rigor, and vigour

You learn more from failures (of course at your own cost of time and money) or more importantly from others failures and succeed even more.

Every failure brings lots of knowledge and wisdom towards futuristic success at much faster scale
Reasons that you would have failed twice
No lessons learnt capture post the first failure

You haven't captured the doubts from your weak areas and solved them

You haven't focussed on the study material as guided or instructed

Back to back two attempts have been given without due diligence on preparation

No focus and not adhering to the "Exam preparation project plan"

Used too many resources rather than focussed few

Failed to understand the concepts mentioned in the PMBOK or RITA

Took too long to attempt second time post the first failure

Haven't done mock tests / mock questions
My Suggestions based on experiences of others
Go a little crazier, take it a challenge. Nothing is impossible (I m possible) in life

Evaluate your

PMP exam

preparation plan and modify to suit your constraints OR else modify your other constraints to fit your exam preparation plan

Evaluate your study pattern, check if you have adopted your study routine as per the plan

Go through the weak areas with full concentration, use failures and lessons learnt from others

Do not mix the professional experience with what the framework says, though at time two options looks similar, however there might be slight difference between what framework says and what you practice in your profession

Questions are in English and there are questions which tests your knowledge of English too hence be ready

Don't take the third attempt before you are fully prepared and confident

Understand the processes and its inputs, tools & techniques and outputs well

Understand the mathematical formulae and practice questions based on them

Practice the mock tests (in single sitting)

Don't use too many resources. Please follow the guidance and instructions provided by your instructors.

Do not assume anything, look at the situation well. All the

PMP exam questions

are within the PMBOK framework only, it's just that how best you can apply it

Read all options thoroughly (worst case if no time left, you can use skimming strategy too)

Take enough rest a day before your exam and stay relaxed

FOCUS, FOCUS and FOCUS on exam prep and on exam questions

ANALYZE your

mock test

results and make trend analysis.

Chat with like minded friends and colleagues, leverage your study group's help
Parting Thoughts
I know it takes courage to tell people you failed twice. However, that's still better than staying shut and not doing anything.

Failure is not an end, however if you quit, you lost the battle

Every failure teaches you something. Think about all the failures you had so far in your life from childhood, did you stop growing personally and professionally?

Get going with double energy and focus, take failures in your stride

Believe in yourself and your abilities. If you suspect your ability to perform no one can help you further

Don't worry too much, life is too short for negative thoughts and don't even bother about what others say on your failures, you are you

Last but not the least, you are not the only one in this journey of failures, there are many others too so don't worry too much, focus on the future and get moving, I am with you.


Please let us know your comments and suggestions. You can write to info@prothoughts.co.in as well.