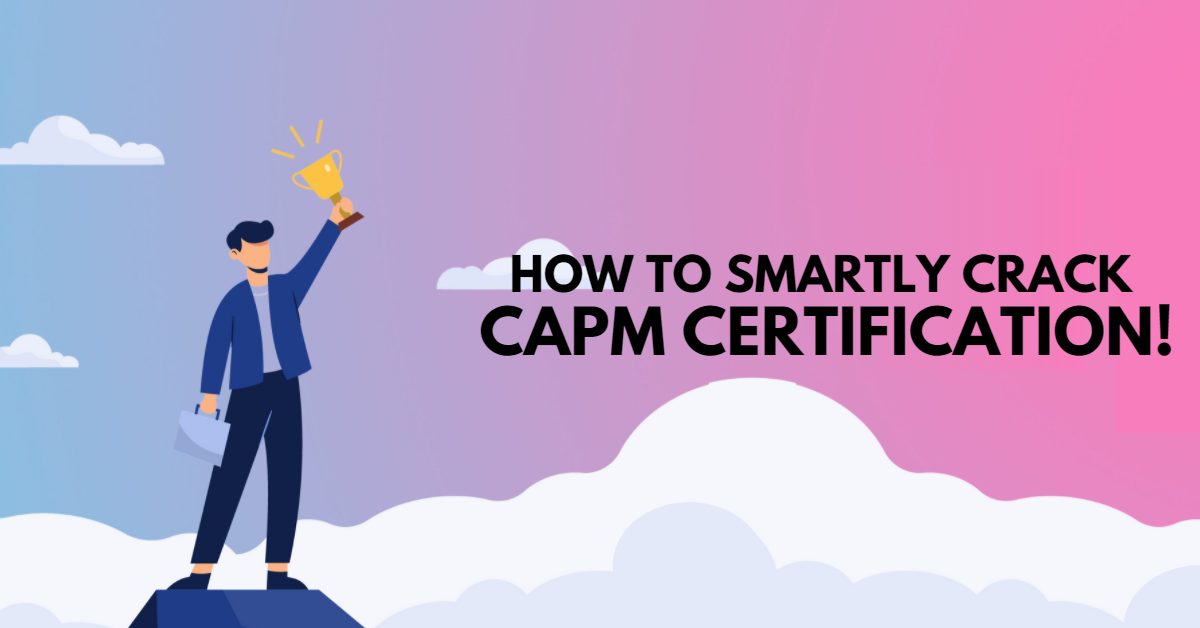 Project Management is a rapidly growing profession. Research indicates that employers will need to fill nearly 2.2 million new project-oriented roles each year through 2027.
CAPM Certification is one of the highly regarded certification courses offered by Project Management Institute (PMI) with which you'll be on the fast track to opportunity. Any professional at the junior level or fresher or student who wants to get into the corporate world of Project Management is eligible to become a Certified Associate in Project Management (CAPM).
If you'd like to manage larger projects and gain more responsibility or add project management skills into your current role, then the Certified Associate in Project Management (CAPM) is right for you.
Regardless of your career stage, Certified Associate in Project Management (CAPM)® is an asset that will distinguish you in the job market and enhance your credibility and effectiveness working on or with project teams.
Organizations with standardized practices attain better results, as shown in our 2015 Pulse of the Profession® report. Because the CAPM® recognizes your knowledge of the profession's preeminent global standard, you'll stand out to employers and be poised to move ahead.
We recommend Smart Work rather than Hard Work to crack the exam. Picking the right educational institute, the right study materials, an effective and smart strategy and an effective support structure behind you is all that you need to crack the exam. It is no rocket science and if done properly can be completed very smoothly and with the least time and effort.
The process starts with first making yourself eligible and then applying for it with PMI, preparing for it, taking the exam and clearing it.
To become eligible for this certification following are the prerequisites
Secondary degree (high school diploma, associate's degree, or the global equivalent)

23 hours of project management education completed by the time you sit for the exam.
23 hours project management education can be completed by enrolling with Registered Education Providers (REPs) like ProThoughts Solutions (Global REP Id: 4032) who are officially authorized by PMI, the governing and certifying body for CAPM Certification.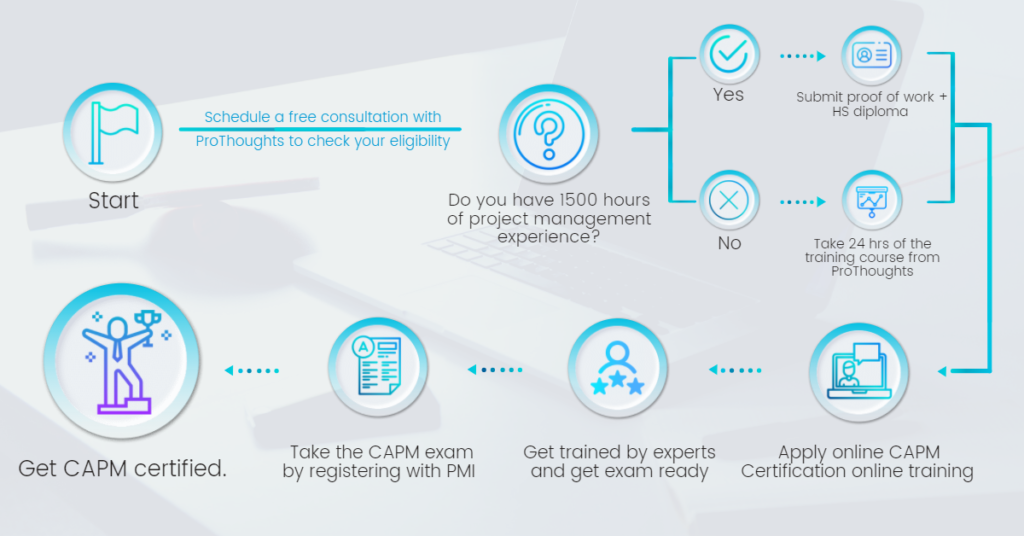 Step by step approach to preparing for CAPM Certification
Check your eligibility

Enrol for 23 hours of project management education and complete it

Ensure you get all the

study materials

and support needed for the exam preparation

Prepare a plan or strategy (the next steps) to prepare for the exam with action dates

Optional step: Take PMI membership.

Students can submit one application form to join PMI as a student member

Apply with PMI and get your application approved

Prepare for the exam (Self Study)

Get effective support during your preparation.

One round of revision is recommended. DO NOT overstudy.

Review your preparation status and speed at regular intervals

Take mock exams to evaluate yourself. This is the reality check to tell you if you are ready for the exam.

Analyze the exam results and identify your gaps

Do root cause analysis (RCA) and find the problem and the solution to the problem

Work towards fixing your gaps, so that the score improves.

Take more exams and check if you are scoring better.

Repeat steps 10 to 14, till you feel you are ready for the exam.

Once ready, pay the exam fees. If PMI/ student member, t

ake the

CAPM exam

at the member discount rate.

Take the date for the exam.

Appear for the exam and crack it

CAPM certification holders need to earn 15 PDUs every three years to maintain the certification.
Few additional pieces of information that will be helpful to you
The

CAPM certification exam

has 150 questions, and you have three hours to complete it.

All questions are multiple choice questions with 4 choices and you can just select one

No negative marking for questions that you answer wrong

Questions are based on formulae, definitions, scenarios and add-on knowledge in Project Management

The exam can be taken from home (Proctor driven, 24/7) or can be scheduled to be taken from any of the Pearson Vue centres. Our recommendation is to go to the centre to appear for the exam.

PMBOK 6

th

Edition is a very generic book and not the best of the books to prepare for the CAPM exam. We would recommend the

CAPM Exam Prep book

By Rita Mulcahy (Latest 4

th

Edition)

Mind Maps and Flash Cards as add on study materials to help you with revision and fast-tracking your exam preparation is also recommended

Minimum

3-4 Mock tests

should be taken, analyzed and gaps identified and addressed before sitting for the final exam

We normally recommend 3 weeks * 3 hours/ day formulae to crack the

CAPM exam

.
ProThoughts Offerings
ProThoughts Solutions offer a comprehensive package that includes the following:
Official 23 hours training or education in Project Management (approved by PMI)

Study materials include Rita Mulcahy main textbook, Mind Maps, Flash Cards, access to eLearning Portal

Access to recorded training videos to go through later

5 Mock Tests in a simulated environment on ProMock platform with answers, explanations and result analysis

Application and Educational support till you get certified
For any further queries and clarifications, contact us at info@prothoughts.co.in or book your appointment with our Experts Now!