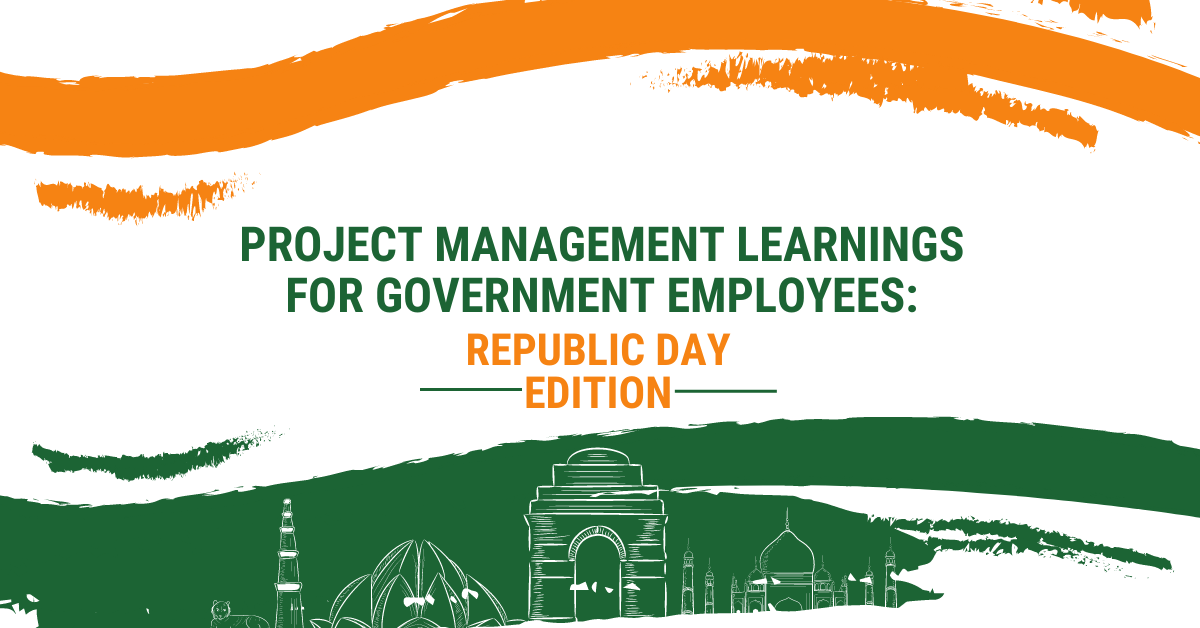 This Republic day, witness the role of project management certification in enhancing the work done by the Governments and Government Employees
We are slowly approaching the 76th Independence Day of India, but Republic Day 2023 has already arrived. As we celebrate Republic Day, let's explore how project management certification can be helpful to government employees. In fact, many government employees have already taken up project management certification courses.
PMP-certified professionals possess skills which can be useful across industries and businesses. In spite of this, government employees must adhere to unique project procedures, terminology, and certifications due to the layers of laws and legislation that define the job. A government project management training course or a government project management course can be beneficial to project managers who want to work for the government.
Project Management has become a key to building a better India, but for that, the government needs to develop a project management culture among the employees. The government in association with PMI has already started taking initiatives towards developing a project management culture. Let's have a look at some of the successful Initiatives taken by PMI & Government.
Successful Initiatives by PMI & Governments in India
Ministry of Road Transport and Highways
The Project Management Institute (PMI) India and the Indian Academy of Highway Engineers (IAHE) signed a Memorandum of Understanding (MOU) with the goal of improving engineers' and project managers' knowledge and project management skills, which will be critical in the successful delivery of road transport and highway infrastructure projects.
Government of Madhya Pradesh
The Madhya Pradesh government signed a Memorandum of Understanding (MOU) with PMI India to promote project management discipline across all state projects and to achieve expected results within budget, on time, and with high quality – all while aligning with the Central government's goals and objectives.
Standardization Testing and Quality Certification (STQC), Ministry of Electronics & Information Technology (MeitY), Govt. of India (GOI)
PMI, in collaboration with STQC, created Project Management Frameworks for e-Governance Projects as part of the Digital India Program.
Department of Personnel and Training (DoPT)
DoPT recognized the relevance and significance of project management. As a result, they have encouraged the Department of Public Enterprises (DPE) to discuss this critical issue with PSUs at both the Central and State levels.
Department of Public Enterprises (DPE)
DPE has made Project Management Training a performance factor for PSEs in the MoUs that they sign with them each year.
There are many more initiatives that Government and PMI have undertaken to enhance the work of government agencies and employees.
Top 5 Benefits of Project Management Certification for Government and Government Employees
PMP Certification empowers employees irrespective of their industry and even the organizations enjoy profits because of the enhanced efficiencies of Project Management Certified Employees.
How Project Management Certification Helps Governments
Implementing New Techniques
Hiring a PMP certified applicant will result in the use of new project management methods and strategies. Recruiting Project Management specialists would help the government in enhancing their capabilities because of the goal-oriented and highly driven work force.
When there are qualified managers leading projects in a government organization, the whole work culture improves. Juniors working under a PMP specialist would develop valuable managerial skills. This will boost the work culture and project standards in the government agencies, as well as the performance of other team members.
Clients are continuously looking up to get the best from any organization. Customer satisfaction is critical in every organization, whether it is a government or a private company. Strong project management discipline and quality are required for effective project delivery, which is why government should employ a PMP specialist to benefit the organization.
How Project Management Certification Helps Government Employees
PMP Certification is not simple to obtain and requires a set of abilities. If you want to apply for a PMP certification, you must first master a set of hard and soft abilities. It will undoubtedly increase your understanding of essential project management processes, tools, strategies, trends, and techniques. PMP courses will not only improve your knowledge but will also present you with more prospects for advancement in your work.
PMP has always been a well-paid certification that is now valued in almost all industries and governments globally. Without a doubt, PMP-qualified project managers make more than their non-certified counterparts. Because they are more efficient at work, PMP-certified professionals get a higher wage. According to Project Management Institute polls, the average income of qualified project managers is much higher throughout the sector.
Provides experienced Professional Recognition
PMP Certification is globally recognized and provides you with professional recognition as an experienced expert. It is obvious that the number of qualified project managers working in an organization enhances the success rate of projects. Certified managers are preferred by organizations and governments because they are better at delivering projects on time and within budget.
If you have expertise in Project Management and meet the qualifying requirements for PMP certification, we can tell you that it will be beneficial to your professional development.
Conclusion
Accountability and transparency are becoming increasingly crucial to the Indian government, and executing agencies are expected to reduce costs, complete projects on time, and improve project efficiency. Even the government is utilizing project management learnings to improve efficiency, increase effectiveness, and remain relevant in today's competitive environment. So, regardless of the field in which you intend to grow your career, PMP certification will provide you with a competitive advantage.
Do you want to become PMP Certified & serve the nation through your amazing Project management skills? Then look no further & schedule a free call with ProThoughts Consultant.
Happy Republic Day…!!!