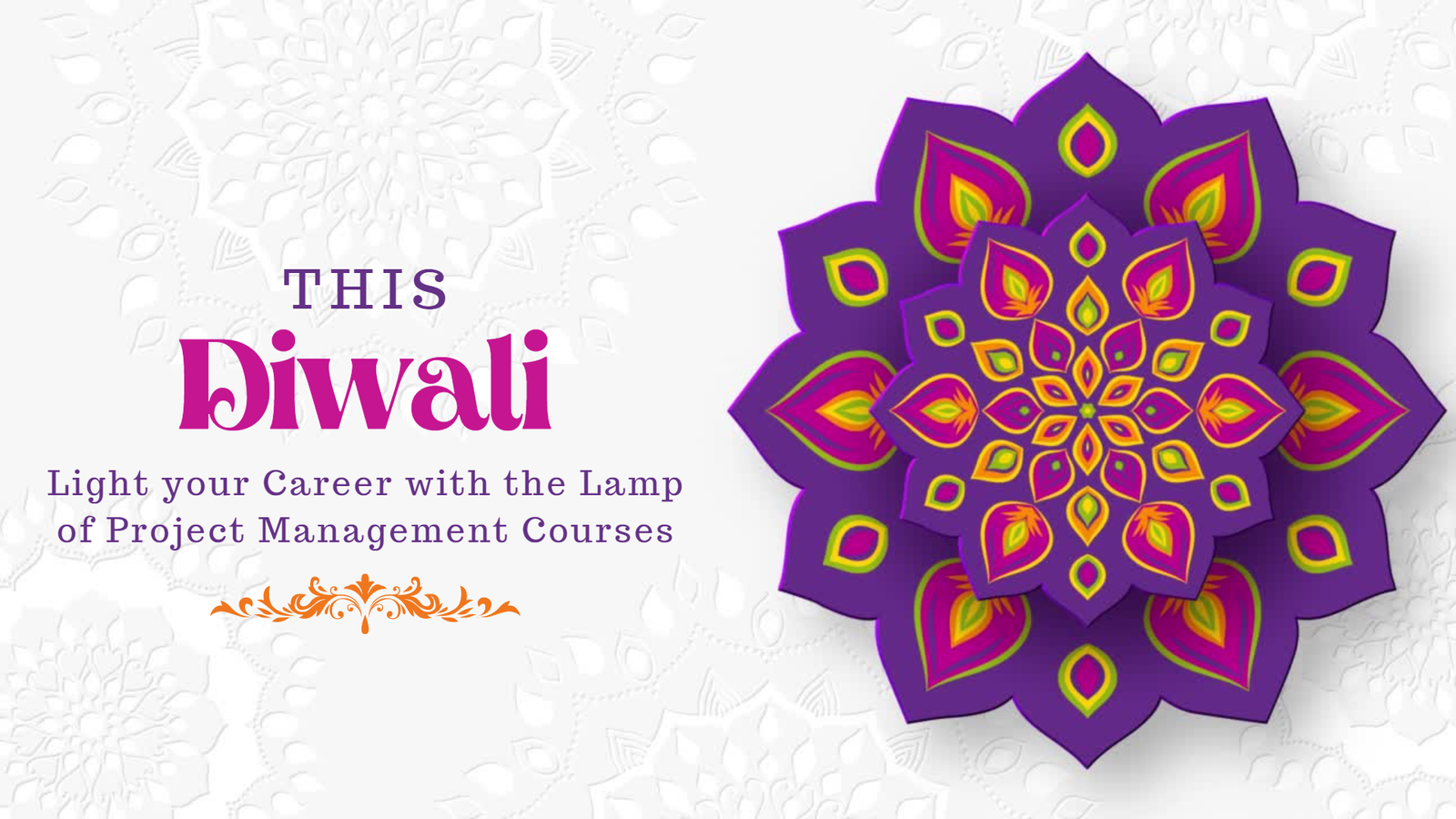 Diwali 2022 is here and while you are busy with lighting diyas in this feast of lights, ProThoughts has arrived with the lamp that can help you shimmer your career
As we move around the town, chilling breeze, bright streets and lightings in the garden well describe the as we move around the town, the chilling breeze, bright streets, and lightings in the garden well describe the festival, India is getting ready for. Yes! Diwali has almost arrived. Sparkling environment and chuckling people all around well describe the reason why this festival is one of the most awaited periods of the year. This festival of light also brings a lot of sweets and holidays, for which working professionals and students eagerly wait. While lighting the diyas at your home, have you ever thought about how can you brighten your career? Yes, this Diwali thinks about lighting your career with the diya of Project Management Courses.
You might be thinking, are these project management courses so important that you should think about them during this festive holiday season? Our answer is Yes! Absolutely Yes!!!
A recent survey by PwC showcases that certified PMP project managers handle more than three fourth of the high-performing projects. Also, businesses with over one-third of PMP certified managers have much better project success than businesses that do not. Wanna know more? PMP is the 2nd highest-paying certification in the year 2022 as per Indeed.
Now, does thinking about PMP certification in this Diwali season sounds important enough? If it does, let's jump to the next question is why you should get PMP certified? Before we explore the reasons to choose Project Management courses, let us first understand what PMP certification exam is all about.
What is the PMP certification exam about?
PMBOK (Project Management Body of Knowledge), with industry standards, is utilized as the guide for testing aspirants. The PMP exam tests the applicants on tasks out of 5 performance domains
Initiating the project (13%)

Planning the project (24%)

Executing the project (31%)

Monitoring and controlling the project (25%)

Closing the project (7%)
The exam has about 200 multiple-choice questions (MCQ). Out of these, 25 are not counted towards the final score. These are utilized as pilot questions to improve the standard of the exam. But, one cannot know what the sample questions are as they are placed randomly throughout the exam paper. Also, it is a closed book test which means that no reference material is be allowed to be used by the applicant during the exam.
Why a Project Management or PMP Certification Is Important for Your Career
A holder of the PMP certification is a professional in this field of project management., and this certification also makes your skills glow. While searching for a job, this serves as definite proof of your capabilities and skills. It not only makes your resume look more credible, but also you will come off as a trustworthy expert to your potential employers and future employees.
Glow Your Career Opportunities
The demand for PMP-certified professionals is growing rapidly. A PMI-commissioned analysis conducted by Anderson Economic Group examined career growth for project managers. The study estimated growth of 33% that is nearly 22 million jobs through 2027.
The commission states that "By 2027, employers will need nearly 88 million individuals in project management-oriented roles."
As we all know, high demand means more opportunities to advance your career and earn more money. So, Project management courses help you in glowing your career opportunities.
Draw New Rangoli of Skills
Can you imagine a Diwali without rangolis? No! Similarly, you can't become PMP certified professional without learning new skills. Project Management certification opens up ways to learn upskill yourself that will optimize your knowledge and opportunities for career growth. What can the PMP certification process teach you? Diligence for one.
Passing the PMP exam is not very easy, it takes hours of study and preparation. It needs you to master the material and learn the fundamentals of each methodology utilized in project management.
You will also learn crucial hard and soft skills like communication, team management, organization, leadership, resources management, problem-solving, conflict resolution, and time management.
last but not the least, you will learn the best practices and latest trends in project management.
Get Blessed with More Dhan
Project managers with PMP certification tend to earn dhan or money or salary more than non-certified ones. As per PMI's Salary Survey, PMP credential holders earn 23% more than those without it. The skills and experience you earn through this project management course truly make you a competitive candidate in the job market.
Spread Aura Across the Industry
PMP certification is recognized universally and hence has its aura spread all around the globe. Many certification programs focus only on a particular geography or domain. PMP on the other hand has a global presence and works with any industry and in all geographies. So, irrespective of the industry and your professional background, you can gain by adding the certification to your resume.
What is the PMP certification value in the market? As per the Data, as the number of project managers with PMP certifications increases within an organization, the success rate of projects of that organization also increases. Also, the brands recognize that certified project managers are better at completing the project on time and within the budget.
If you are a fresher or beginner in the field of project management, then PMP certification will make up for the lack of experience and if you are experienced and have a proven track record of your work, in that case, PMBOK certification can take you to the next level in your company. So, like the vibes of Diwali spread your aura across the industry.
How to Light the Lamp of Project Management Course Enrollment?
After learning all these facts, I am sure you might be eager to know how to get started with Project Management Certification courses, so let mean answer this question as well.
Firstly, find a perfect institute that has project management experts as their lecturers, and ensure that the brand completely focuses on various aspects of project management. One organization that I have in my mind while I write this sentence is ProThoughts Solutions. Prothoughts has a team of experts and is completely focused on the courses related to project management. With so many feedbacks from the PMP professionals, it is becoming the most trending name when it comes to top project management institutes.
Take Away Candy Box
Some people might view PMP certification as expensive, time-consuming, and difficult, but like Diwali can't be ignored when it comes to festivals and celebrations, Project management certification can't be ignored when it comes to delivering successful projects. This is the reason, most recruiting experts treat project management certification as an important credential that adds credibility to your resume and career. PMP Courses further help you build essential skills required to excel in your career.
So yes! PMP certification is worth the effort and this Diwali light your career with the lamp of Project Management Certification. To know more about the PMP Certificate schedule a free call with ProThoughts consultant.
Happy Diwali!!!