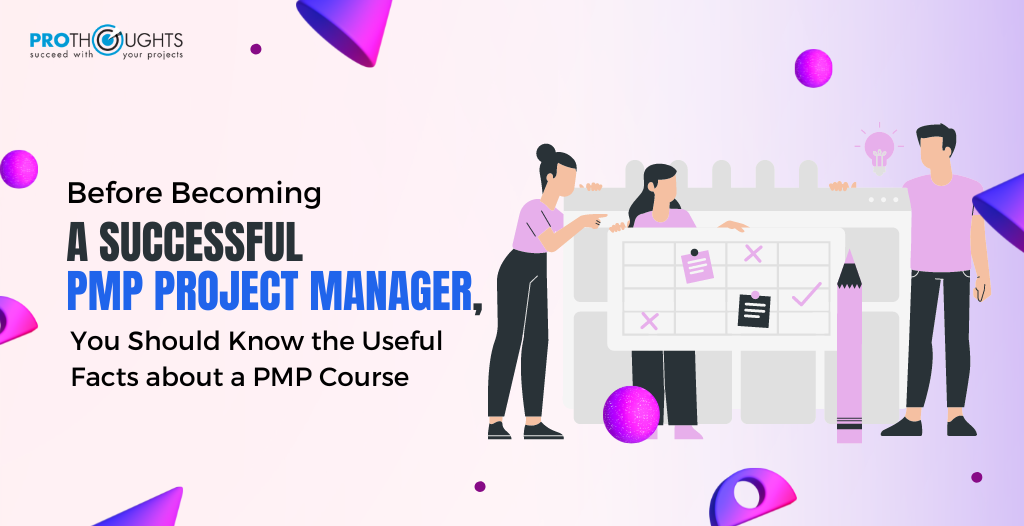 In today's competitive world and education system, the most acclaimed and widely known qualification is the PMP, or project management professional. Comparing it with other certified courses it is also one of the most challenging certifications a working professional can obtain. As a result, individuals that aspire to the highest level of education are keen to obtain the PMP Certification and become a Project managers.
Furthermore, when you join a higher post at any organization, you naturally become a part of the value because it is considered a premium credential for earning respectable recognition and accreditation among other professionals.
These are some of the specific motives that draw people to take the PMP exam and, while there is still time, register in an appropriate and reputable PMP Certification training course. However, there are a few facts that any PMP aspirant should consider which we will discuss in this blog. Changing with time some important facts about the PMP certification that you need to know before getting into this field!
What majority of people around the world have a PMP certification today?
The PMP Certification is a global certification since it is widely recognised. Currently, there are up to 1,000,000 people worldwide who possess a PMP certification. The quantity is quickly growing. The PMP certification is almost universally obtained in order to land the best jobs in project management and associated sectors.
Acquiring a PMP certification will help you earn a high salary and compensation!
Nobody can stop you from earning well once you have taken the PMP certification and have received the appropriate training from an authentic and reputable educational institution.
What is pmp certification eligibility?
A professional needs a bachelor's degree and 3 years of experience leading projects for a business in order to pass the PMP test. A professional working for a company typically needs 4,500 hours as the project's leader before they are qualified to take the PMP exam.
By including this qualification in your resume, you can advance your career and achieve success while earning a competitive wage! If you enroll in the PMP Certification Training course at ProThoughts, you can succeed and triumph! You can definitely go where you want to be with the support of a committed group of professionals and thinkers! You may get all the help you need to pass the PMP test, from theoretical guidance to practical assistance!
The PMP Certification has validity:
The PMP certification does indeed have a time limit and an expiration date! After the candidate has completed the exam, the PMP certification is valid for three years. It is possible to renew it, however, the process is different.
It testifies to your effective Project Management Skills:
The usefulness and quality of the PMP certification are incomparable. When you are working, it makes you more recognizable to your managers and superiors, lending credibility and authenticity to your job. The PMP certification mostly focuses on how you handle current projects. It guarantees that you are a successful project manager for the business and are acquainted with current market trends.
PMP training will help you ace the test with ease:
Joining a PMP training program and taking part in online classroom instruction will help you pass the exam more easily. It is a known truth that students and aspirants experience less tension and stress once they are accepted into a training program than they do when they are studying for the exam individually.
Spending money on a PMP certification course is worthwhile!
The PMP Certification is, in fact, expensive. Your savings and wages may be severely impacted. However, once you pass the PMP exam, it may all be worthwhile.
A professional can make more money after passing the exam than before. Additionally, if you are a PMI member, the cost is only $405. If you are not a member, on the other hand, you would have to pay $555!
The PMP Exam is Open to Retakes.
Did you realize that you may retake the PMP exam? Yes, that's correct. The candidate can retake the PMP exam if they are unsuccessful in passing it the first time. A professional can often take the exam three times a year. We infer from these facts and realities about the PMP certification that they can result in some discernible and significant shift in your daily routine as you study for the PMP test. Our goal is for every applicant to be completely informed before deciding to take the exam.
At ProThoughts, we wish you success in each of your activities. Make a decision today and register for our PMP Course for a bright future.
Request a free call back from our consultant!