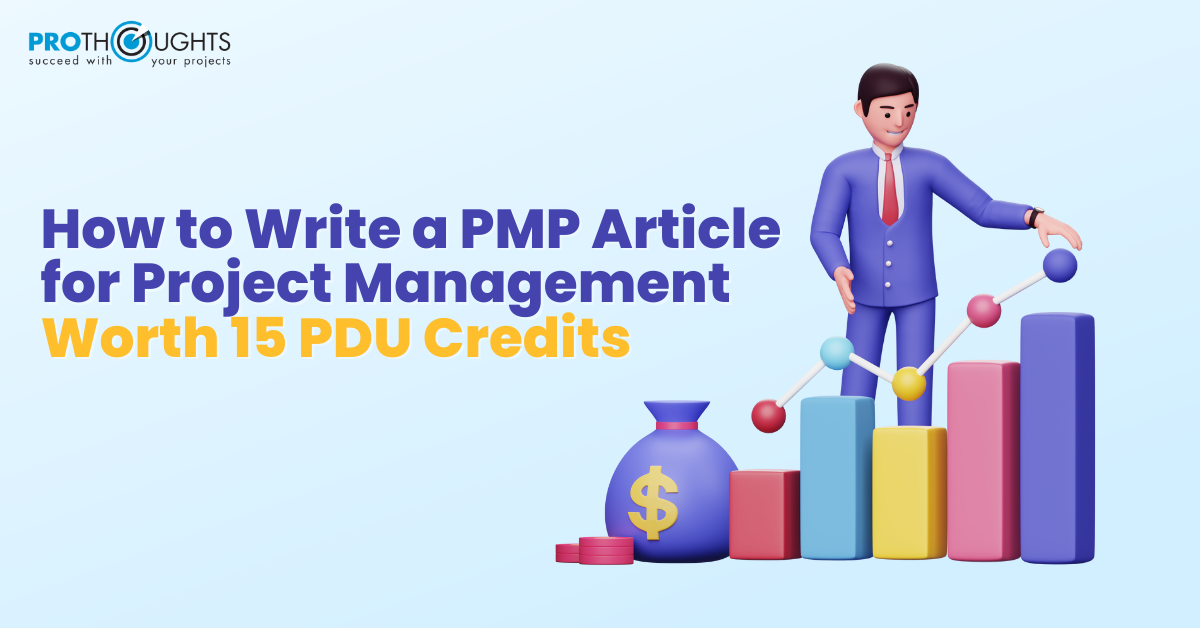 If you have successfully become a PMP Certified then it is mandatory to Earn 60 PDUs every 3 years to maintain your PMP Certification. There are many ways you can earn PDUs and among them, one is by writing articles for Project Management and earning some credits. So if you are willing to Earn PDUs by writing the Articles then you are in the right place. Learn the Dos and Don'ts of writing the article and earn maximum PMP PDUs credits for it. Here's the guidance.
First and foremost, many professionals wonder and get a big perplexity about having no idea what to write on. So let us help you by giving some simple ideas.

Prepare a white paper detailing your most recent endeavor. Focusing on best practices for project management, describe what you managed and how you did it.

Consider the previous three meetings you had, and then list what you learned from them. Try to write something new about Project Management.

Discuss with a coworker about a particularly challenging element of your project, and then compose an essay about the issue and what you did to fix it. Of course, a month from now you can create another article discussing how successful (or unsuccessfully) your actions were.
However, take note that some subjects do not count for PDUs. For instance, you won't receive any PMI PDUs for reading an article about the newer versions of a project management tool. Articles such as the one you are reading right now about earning PDUs or how to study for the PMP exam do not count either. These three subjects are excluded since no article that is written about them adds to our knowledge; rather, it only describes a "product." So, take precautions and end up writing about what you discovered when managing your projects on a regular basis as a PM.
You must post your first article as soon as it is finished. But many of you may wonder where? There is no required checklist of particular articles published channels maintained by PMI. The article needs to include project management-related themes, and it should be published somewhere where most project managers are common to catch it.
Some additional Important points to be considered are as follows;
Editorial Standards
Articles must be instructive and impart your special knowledge or experience.

Get a whole thought in words. We anticipate that a whole thought will require at least 250 words, but this isn't a rigid requirement.

Articles should be written in English with appropriate grammar and spelling, with a focus on readability.

Where applicable, use bullet points and subheadings.

Quote a source and references in the text's main body.

Whenever appropriate, mention books you think people should read more.
The article Should not include the following points;
1- A press release, advertising, or promotional piece should NOT be an article.
2- The article should not be a piece of writing that was bought or that has previously been released in the public interest. Only original content written by the owner is permitted by PMI EIC.
3- Do not include material that might violate the law, be seen as libelous or defamatory, involve violence, hate speech, immorality, or have a demeaning, vulgar, or dehumanizing tenor.
4- The article should not Include any JavaScript, HTML IMAGE elements, complex HTML code, or file URLs.
5- The owner should not add bibliography or footnote references.
Submission Method and Elements
(For every entry)- Please acknowledge that you have carefully read and comprehend these rules in the email's body.
Give the author's biography in brief. What can be used will depend on the available space.
No article may be written by a firm.
Indicate how you want your name to look in the newsletter. Degrees and/or certifications are examples of this (Master's level or above).
Include a contact phone number (email and phone). This information will not be shared and is just used for contact reasons.
Send your article as an attachment via email in Microsoft Word format (.doc is preferable).
Send any images or illustrations as separate email attachments (.jpg, .jpg or .gif files).
Please include your proposed publication date, if any. Kindly note that your article is submitted by the deadline for the requested edition if you want your article to appear in a certain issue of the newsletter.
Summary:
So coming to the end of this blog, we hope you have deeply understood the simple and easy way to write a PMP Article for Project Management and earn maximum PMP PDUs and maintain your PMP certification.