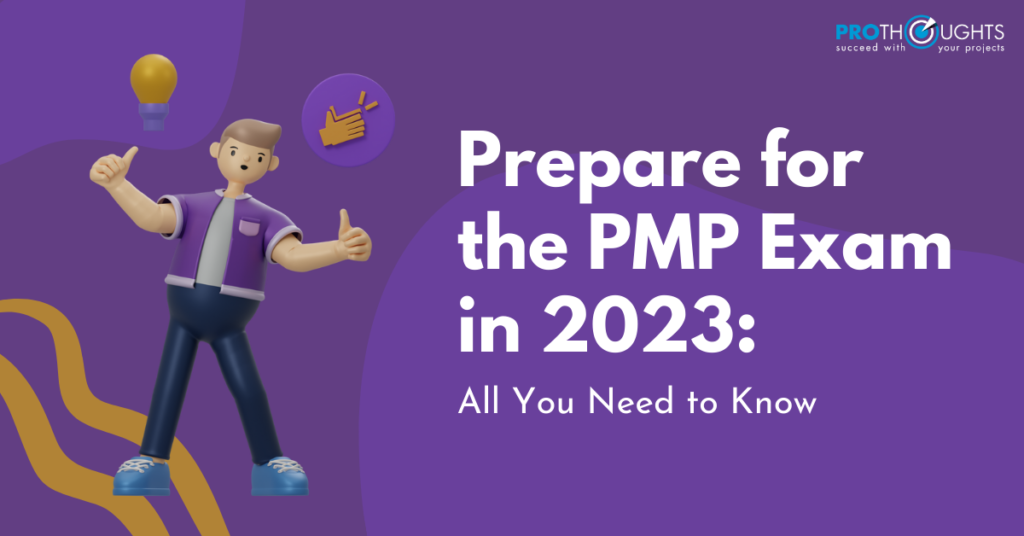 One of the most respected certifications in the field of project management is the PMP Exam. Today, a PMP is a prerequisite for project managers in many organizations across numerous industries. By providing excellent resources to investigate more chances, PMI is assisting professionals in excelling in their different professions.
Candidates need a particular skill set and amount of experience in order to obtain a PMP Certification. Having a PMP certification is a sign of expertise that impresses recruiters. The PMI (Project Management Institute) creates industry standards and provides certified project managers with credentials that are recognized throughout the world. So before you start studying for the PMP exam for 2023 and further, you should be aware of the following key points.
Important PMP Examination updates:
On January 2, 2021, PMI released the updated PMP exam, which underwent significant revisions. The Test Content Outline provides the foundation for the PMP exam (ECO). Even though PMBOK7 was digitally released by PMI in August 2021, PMBOK6 continues to be the primary reference for the PMP exam.
Plan for PMP preparation in 2023:
Here are some suggestions to strongly consider before you take the PMP Exam 2023 if you plan on taking the new PMP exam.
Create And Follow A Study Plan
Each student will have their unique method of preparation when preparing for the PMP Certification. Make a study schedule that best accommodates your style of learning. Make sure to use the reference materials and PMP training to develop an ideal study schedule. For the PMP Certification Course, from ProThoughts you will receive training from a highly qualified, certified trainer. It is among the most reliable routes you may take to earn your PMP certification. Your trainer can take you through each phase of the PMP exam preparation while you are preparing for the PMP Certification exam.
Use PMI-approved PMP preparation materials:
You may feel confident when preparing for the PMP Certification exam by using the PMI Approved prep content. You can be sure that the study resources used to prepare for the PMP test came from a reliable source. We do believe that extra resources should be added for more in-depth understanding as the PMI permitted prep contents are superficial in nature. You can get help to access the PMP preparation materials from ProThoughts institute including PMP Certification Cost and experience in providing PMP prep courses.
Examine And Strengthen Weak Areas
Analyzing and strengthening your weak areas is the greatest strategy to get ready for the PMP exam. This self-analysis will help you identify your areas of weakness and what you need to work on during the practice mock exams. You can use this as a tool to determine how well-prepared and exam-ready you are.
Attend practice tests to assess your knowledge.
Different scenario-based questions on the PMP exam push you to apply your theoretical concepts to these circumstances. Therefore, taking practice exams will enable you to become more accustomed to the PMP exam structure. You can assess your ability to function well during the three hours and fifty minutes of the exam by taking practice tests. Utilize the practice tests to improve your test preparation.
Establish a deadline, schedule the test, and master it.
Setting a PMP exam deadline is crucial to preventing last minute preparation. Delaying the exam after PMP training without a reason could be detrimental. So from the very beginning, set the deadline appropriately. Two to three months after beginning the training is the best amount of time for preparation.
Join a training program for the PMP certification
Register in a reasonable PMP Certification Cost India with ProThoughts. This course is providing you with instruction based on the most recent PMP Examination Content Outline. We guarantee that you receive the most relevant project management information in accordance with the PMI established requirements, the instructors are in good standing with PMI and possess relevant industry experience.
Such training will not only help you successfully clear the exam, but it will also open you many practical perspectives on how to handle projects in the real world. Additionally, we give you post-training support, as this is very essential for your test preparation.