PMI-ACP encompasses the entire Agile framework which includes all the Agile methodologies including the Scrum. Further, the PMI-ACP is designed for Project & Program Managers, Product Owners, Scrum masters, Scrum Product Owners, Agile Coaches, Agile Trainers, Sr. Developers, Business and IT Managers with experience in Agile projects. General project experience is required in addition to Agile-specific experience and education. The exam is designed to test both the practitioner's level of professionalism in Agile practices of project management and professional versatility in project management tools and techniques. You can learn about the pre-requisites here.
For Certified Scrum Master (CSM) course, no eligibility is required as such. The CSM introduces to the world of Agile and helps you to learn the basic fundamentals, terminology, principles of Agile. However, CSM focuses only on the Scrum methodology.
The exam is designed to test both the practitioner's level of professionalism in Agile practices of project management and professional versatility in project management tools and techniques. Prerequisite requirements for the pass/fail exam are broken down into three categories:
Will the audit package be returned by PMI?
No.
Whether your PMI audit result is successful or not, PMI will not return the audit package to the PMP® / PMI-ACP® applicant. Therefore, only photocopies of the certificates are required by PMI instead of the original ones.
PMI will need to retain the audit package according to its internal auditing procedures.
What would happen if the PMI audit fails?
First and foremost, the PMP® or PMI-ACP® candidate is not able to proceed with the certification application and examination. The certification fee paid will be refunded (with the subtraction of the processing fee).There may be some follow-up actions by the PMI depending on the cause of failure of the PMI audit:
if the audit fail is due to incomplete information (including the documents are sent to PMI in more than 1 package), no action may be taken by PMI, but the candidate will only be able to reapply to the certification 1 year later;
if the fail is due to fraudulent information, PMI may take disciplinary actions (including banning from application to PMI certification for life) to the candidate in question as PMI takes integrity very seriously.Therefore, when submitting the PMP® application / PMI-ACP® application, always make sure you are entering truthful information. Honest is the best policy.
Do I need to be the project manager / Scrum Master to apply for PMI-ACP Exam?
Not really.
PMI-ACP is "Project Management Institute – Agile Certified Practitioner". The key word is the Practitioner. As long as you are practicing Agile in your projects and any methodologies in Agile, you can be eligible for PMI-ACP®
2,000 hours working on project teams as a member or project leader within the last 5 years
1500 more hours working on Agile project teams / with agile methodologies within the last 3 years
21 Contact Hours of Agile project management/practices training
Further, you can be play any role in Agile projects – you can be a developer, sponsor, product owner, business analysts, etc. as long as your projects is working on Agile methodology.
If you happen to be a PMP®, the 1st requirement for the 2000 working hours will be automatically fulfilled. PMP Eligibility Requirements can be referred here.
What is the passing score for PMI-ACP exam?
Actually no one knows this. If anyone is suggesting any score for PMI based exam, we will doubt it.
The Project Management Institutedoes give any passing score nor they provide any information on the questions answered correctly. What they provide is just the grades. They are the following:
Above Target — performance better than the average Aspirants
Target — performance on par with average Aspirants
Below Target — performance worse than the average AspirantsThis is because the PMI-ACP® Exam is based on 'sound psychometric analysis' (which is a modern way of keeping the standards of those who pass the PMI-ACP® Exam). Also, since most of the PMI-ACP® Exams are administrated on computers, the question sets of individual candidates are different, hence the passing scores for individual exams will need to be adjusted to the overall difficulty of the set, i.e. NOT the same.
However, according to the trainers of PMI-ACP® Agile Certification aspirants, most of them would estimate that the passing score is around 70%. This may be because the PMI-ACP® Exam is generally considered a bit easier than the PMP® Exam (but this is just an educated guess only as no information has been disclosed by PMI).Therefore, when you are attempting ProThoughts PMI-ACP® sample Mock Exams, it is highly recommended to set a higher standard than 70% (e.g. 75% – 80%) for your mock exam performance so that you can walk into the PMI-ACP® Exam centre with better confidence of passing the exam in first attempt.
As per our alumni who have passed both PMP® and PMI-ACP® Exams in their first attempt, we can claim that the PMI-ACP® exam is easier than the PMP®.
What is the PMI-ACP exam format?
The PMI-ACP® examination is comprised of 120 multiple-choice questions and has to be completed in 3 hours. Of the 120 questions, 20 are considered pre-test questions and do not affect the score.
Please check the for complete details.
Who are the instructors for the PMI-ACP course?
We believe in in-house instructors and that's one of our differentiators. The in-house instructors are dedicated and exude passion in the training. The training delivery and the training methodology is what stands out for ProThoughts, claim our students. You can check the feedback reviews about our trainings. You can check the Instructor Profile on the course page.
Do you provide PMI-ACP exam assistance?
Yes. We hand hold the participant till he achieves the coveted PMI-ACP certification course. We provide Exam Form Filling assistance through our guided software. Our Expert reviewers and counsellers are available to help with any queries the participants may have. We assist all participants with their Audit Process. In short, we hand-hold them in their journey to become PMI-ACP certified.Do you have any further questions, which we could not answer?
Please drop a mail to support@prothoughts.co.in and we will get back within 48 working hours.
Do I need to have any other certifications for applying to PMI-ACP? Does it help to have other certifications?No. No one certification serves as a prerequisite for another. You also do not have to be a PMI member to apply to become a certification holder. If you are already PMP® certified, the general project experience required for PMI-ACP® is waived off.
What supporting documentation should I send with my application?
When submitting an application, you do not need to send documentation. However, you will be required to send supporting documentation if your application is selected for a random audit. To find out more about PMI's audit process, refer to the certification handbooks and the audit FAQs.
Where will the examination be given?All PMI exams, with the exception of the CAPM, are offered at approved Prometric Testing Centers worldwide. You can check for locations on Prometric's website .
For the CAPM exam, you can check for locations on Pearson VUE's website . You can also take your CAPM exam in the comfort of your home or office while being monitored by an offsite proctor through Pearson VUE.
If I fail the exam, can I take it again?If you fail the exam on your first attempt, you can re-take it two more times within your one-year eligibility period. Fees are associated with re-examination. Details for re-examination can be found in the certification handbook.
What happens if my eligibility expires and I have not taken the exam?Your application is valid for one (1) year from the date of approval. If you allow your eligibility to lapse, you must re-apply.
How are the three areas of focus for the PMI Talent Triangle defined?The PMI Talent Triangle outlines the three skill areas employers need. They are as follows:
Technical Project Management: the knowledge, skills and behaviors related to specific domains of Project, Program and Portfolio Management. The technical aspects of performing one's role.
Leadership: the knowledge, skills, and behaviors needed to guide, motivate, and direct a team, to help an organization achieve its business goals.
Strategic and Business Management: the knowledge of and expertise in the industry and organization that enhances performance and better delivers business outcomes.
Are you approved by PMI®?
We are the REP (Registered Education Provider) of PMI with Global REP id of 4032. We abide by the quality assurance criteria of PMI and our materials are approved by PMI
How is the PMP exam structured?
PMI-ACP® EXAM CONTENT OUTLINEThe PMI-ACP® examination will consist of 100 scored items and 20 unscored (pre-test) items. The unscored items will not be identified and will be randomly distributed throughout the exam. The allocation of questions will be as follows:

This certification has been designed to:
demonstrate to employers the practitioner's level of professionalism in agile practices of project management; and,
increase the practitioner's professional versatility in both project management tools and techniques.
What are the PMI-ACP Eligibility Requirements?
To be eligible for the PMI-ACP certification, you must meet the following educational and professional experience requirements.
2,000 hours of general project experience working on teams. A current PMP® or PgMP® will satisfy this requirement but is not required to apply for the PMI-ACP.
1,500 hours working on agile project teams or with agile methodologies. This requirement is in addition to the 2,000 hours of general project experience.
21 Contact Hours by Training in agile practices from PMI REP*Note: for those who hold a PMP and/or PgMP certifications, PMI has already verified you have exceeded the project experience requirements. In other words, PMP and/or PgMP certification holders will be accepted as fulfilling the general project experience requirements
What are PMI-ACP Certification Fees?
The proper fees for payment are determined by your PMI membership status and the examination delivery type (computer-based versus paper-based) for your geographic location. Refer to the Examination Administration section in this handbook to see if you qualify for paper-based exam delivery. Otherwise, plan on taking a computer-based exam and submitting the associated fees. Use the following chart to determine the certification fee.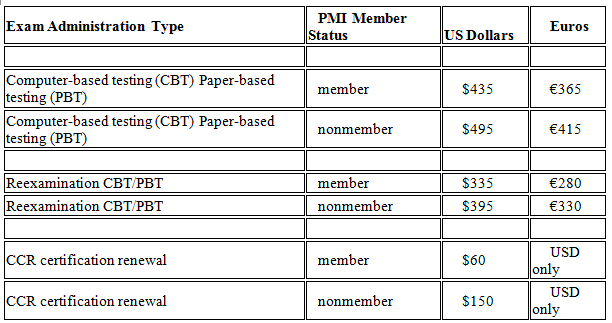 The PMI membership rate will apply only if you are a member of PMI in good standing at the time you submit payment for the certification. If you apply for membership right before you apply for the certification, make sure you receive confirmation of your membership before you pay for the certification. If your membership has not been completely processed before you pay for the certification, you will be charged the nonmember rate.

If PMI membership is obtained after you submit payment for the certification, PMI will not refund the difference.
What is the PMI-ACP Audit Process?
The submission of an application indicates your agreement to comply with the terms of the audit process. All applications are subject to an audit, although only a percentage of applications are selected for audit. The selection of an application for audit is random.If your application is selected for an audit, you will be notified by email prior to payment of the certification fee. The electronic audit notification provides detailed information on how to comply with the terms of the audit.During an audit, you will be asked to submit supporting documentation such as:
Signatures from your supervisor(s) or manager(s) from the project(s) recorded in the experience verification section of the application
Copies of certificates and/or letters of registration, from the training institute(s) for each course recorded on the application to meet the required contact hours of training in agile practicesPMI provides you with 90 days to submit the requested documentation. If you are able to provide the necessary documentation to meet the terms and requirements of the audit process, the audit should take about five to seven business days to complete.You can send your completed audit forms by regular postal mail or express courier service, to the address below. Please send all materials at one time, in one envelope. Sending audit documents separately can cause delay in the audit review timeframe.For more details visit
Do I get refund if I cancel the enrolment?
Check our refund policy
Is there Standard Guide from PMI for PMI-ACP®?
PMI provides PMBoK as their standard reference guide for PMP®. However, there is no guide or standard prepared by PMI for PMI-ACP®. What it provides is the PMI-ACP® Exam Reference Books (a total of 11 Agile books with over 3800 pages!) which is much thicker than the PMBoK® guide. What we recommend is one book which takes the relevant content from these 11 books
RMC PMI-ACP® Exam Prep by Mike Griffiths
This is the most popular book on PMI-ACP. Fortunately, we are the exclusive distributors with RMC in this part of region and we use this book to coach the participants. All of our students have used this book and have received excellent results. The author Mike Griffiths is a renowned Agile trainer and practitioner who has help formulating the PMI-ACP® Exam structure and syllabus – who else could be more familiar with the PMI-ACP® Exam than this insider?
Is PMP Prep by Mike Griffiths the best book for PMI-ACP?
We would say so. It is often said that the PMI-ACP® Exam Prep Book by Mike Griffiths is almost the "official" study guide for the PMI-ACP® Exam. However, this book by Mike Griffiths is not a must read but a highly recommended for any exam taker or even for knowledge seeker who have just started on Agile or a practitioner in Agile.We also recommend to use our study material specially designed for PMI-ACP along with Mike Griffiths book. The study material is designed for specific stages of your PMI-ACP® preparation. We provide the Slide Book on PMI-ACP®, Flash cards, Supporting Guide to fill your application, Pre-Assessment Software guide and most importantly, specially designed Mock exams to crack the PMI-ACP exam.

All the Best!