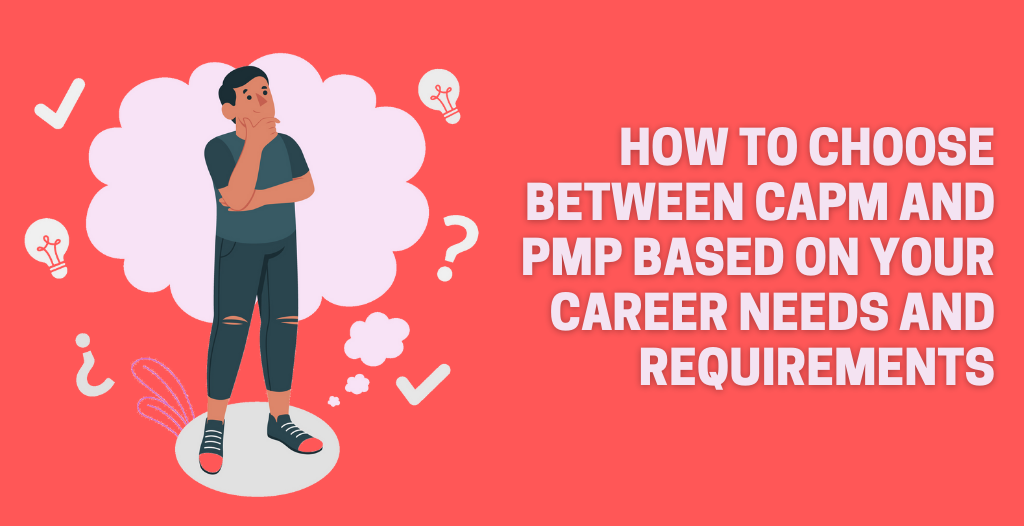 Unable to decide between CAPM or PMP Certification? but, first of all, congratulations on considering getting a professional certification in Project Management. Before we move into discussing what to decide between CAPM & PMP, let's have a brief introduction about these two certifications.
What is CAPM?
CAPM stands for Certified Associate in Project Management, it is an entry-level certification offered by the Project Management Institute (PMI) for those who want to become a certified associate in Project Management. This certification covers the core processes, fundamental knowledge & terminology that enable effective Project management.
CAPM aligns with the standards mentioned in the PMBOK Guide and it is designed to test the candidate's knowledge about the different Project Management areas.
Successful completion of CAPM is a globally recognized proof that ensures a candidate possesses the necessary skills & knowledge about the standards & principles of Project Management.
Talking about the eligibility criteria for CAPM certification:
A candidate must hold a secondary degree (that includes a high school diploma, GED, or global equivalent)
23 hours of education in Project Management to be completed before appearing in the examination.
What is PMP?
PMP stands for Project Management Professional, it is one of the most sought & popular certifications in the project management industry. PMP validates that you are among the best and highly skilled in the following domains:
People: it emphasizes the soft skills that are required to lead a team effectively.
Process: it puts a significant focus on the technical aspects of managing a project.
Business Environment: it calls attention to the connection between the projects & strategy of the organization
Talking about the PMP certification eligibility:
Four years of degree
At least 36 months of professional project management experience
At least 4,500 hours of experience in leading the projects
Minimum 35 hours of education in project management
OR
A High school diplomas
Minimum 60 months of experience in professional project management
At least 7,500 hours of experience in directing the projects
Minimum 35 hours of education in project management
Now that we know what CAPM and PMP Certification is, it's time to dive deeper into the discussion & deciding on how to choose between CAPM and PMP.
As mentioned earlier CAPM is an entry-level certification therefore it is suitable for candidates who want to start their career in Project Management. Being an entry-level certification, you do not require any relevant experience as it is an introductory course that helps you to get familiar with terms and terminologies of Project Management and understand the necessary frameworks. If you are looking for a beginner-level certification in Project Management offering better networking opportunities then CAPM certification is the right choice for you.
Check the CAPM certification by ProThoughts:
Whereas, PMP is an advanced level certification for Project Management and is for experienced Project managers who wish to accelerate their career & step up their performance. It helps you get globally recognized proof in the domains that are vital in Project Management. It gives you an opportunity to push your limits & work on more challenging projects as well as gives your earning potential a good hike. For acing your PMP exam, the best practice would be to get PMP certification training online or offline from an Authorized Training Partner (ATP). So as an experienced Project Manager, if you want to take your career a level higher, then definitely PMP Certification that you must opt for.
Check out quality training on PMP certification by ProThoughts: